Broadcast News
14/01/2014
SGO's Mistika Captures The Hobbit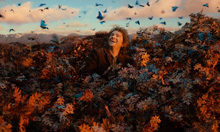 SGO's Mistika DI Colour Grading post systems have been used again at Park Road Post Production in Wellington, New Zealand, in Peter Jackson's epic fantasy sequel The Hobbit: The Desolation of Smaug.
Mistika's involvement included supporting on-set services and screening HFR digital dailies, through to the DI online, stereoscopic work and final grade.
The facility boasts purpose-built DI theatres for both 2D and stereoscopic finishing work, supported by Mistika 4K/Stereoscopic master systems and combined with dedicated finishing suites with matching SGO technology.
Supervising Digital Colourist Trish Cahill worked with a team at Park Road alongside Lead DI Colourist Vickie-Lynn Roy, using Mistika's colour grading toolsets.
"At Park Road we are inspired by filmmakers who share our constant desire to push storytelling tools forward," Trish said.
"That motivation allows us to deliver world-leading results for our clients which never let technology take the lead, but which give us compelling colour grading tools with which to achieve a director's vision. The Mistika is simply a great asset creatively and technically, and is at the core of our work on this incredible production.
"Park Road choose tools that are not only scalable and technically deep, but have truly focussed on using those tools as enablers for creative expression. With the Mistika we were able to work interactively with the production, at High Frame Rate, taking the unique looks developed for the second film and extending them in the final grade sessions to focus on visual narrative. The best thing about great tools is they enable us to work with filmmakers to bring the world they imagined to life."
Park Road, with technology partner SGO, also won the industry's IBC2013 Innovation Awards for their pioneering work building the World's First HFR-3D post workflow.
The 2013 IBC International Honour for Excellence was also presented to Sir Peter Jackson.
SGO received the International 3D Society's 3D Technology Lumière Award for its Mistika finishing and colour grading system and for advancements in Stereo 3D and Ultra HD technology.
SGO's Director of Global Sales and Operations Geoff Mills said: "We are very proud that Mistika continues to play an integral role at companies of such a high calibre such as Park Road, in yet another exceptional feature film delivery as part of The Hobbit Trilogy. The team at Park Road Post continue to stretch the boundaries of film production and SGO eagerly supports them with current and future project work."
www.sgo.es
(IT/JP)
Top Related Stories
Click here for the latest broadcast news stories.