Broadcast News
19/12/2013
Creative Skillset - Forging A Rich And Diverse Talent Pool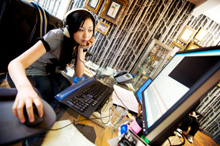 Jo Welch, Diversity and Inclusion Manager at Creative Skillset, talks about the importance of a film and TV workforce that is representative of the UK's rich and diverse population.
Creative Skillset's 2012 Employment Census told us that only 5.4% of the Creative Industries workforce is Black Asian and Minority Ethnic (BAME) and just 1% is disabled. In film, excluding freelancers, the figure for BAME is 4.4% and for TV it is 7.5%. To put this into perspective, the UK working BAME population is 9.1%.
Looking at film and TV in London, where the vast majority (57% TV and 58% film) of those workforces are located, the working BAME population is 28.8%. However, the BAME proportions of the TV and film workforces in London are only 10% and 6% respectively. In contrast, Scotland's representation of BAME people in the creative media workforce is higher (3.3%) than Scotland's overall working population (2.5%).
Looking at the disability statistics, in a self-reporting survey in 2010, we found the representation of disabled people to be 5.6%. In the Census, however, the number of people disclosing disability to employers was just 2% in TV and 0.3% across film.
How does this low representation affect the ideas, content and voices we hear on film and TV? At Diversify, a recent event produced by Broadcast and Screen International, there was much debate about how hard it has been to get diverse voices and portrayal on screen, as well as increasing representation in the decision-making and production areas of both industries. Workplace culture, lack of progression opportunities, reliance on patronage, and a significantly non-diverse senior management and executive layer, all contribute to structural barriers that need to be addressed.
Creative Skillset's role is to support skills development.
The apprenticeship frameworks we create enable a wide variety of people to gain entry to film and TV. The funding for training we provide enables those who are already making their living in the industries to gain the skills they need to progress.
The Creative Skillset Tick signals courses and apprenticeship programmes that are industry-approved and will enable skilled graduates to develop the relationships and contacts they need to find paid work.
We also set up InterMedia – a lesbian, gay, bisexual and transgender (LGBT) network for often isolated LGBT media professionals to share expertise and skills. In future we will collect data on the LGBT workforce, as there is none currently available and the LGBT population is around 6% across the UK.
Creative Skillset has established training networks throughout the country, managed by network managers who work with employers; education and training organisations and young people to boost and facilitate all of these activities.
There are also a number of opportunities for individuals and businesses as a result of the Skills Investment Fund (SIF). Employers, either individually or in consortia, can apply to the Challenge Fund for programmes that could support diversity in the workforce.
And Trainee Finder enables companies to access the best new entrants from a diverse talent pool and also receive match funding.
We can help to improve diversity within the Creative Industries through skills and training but it needs the commitment from the whole industry to look at wider employment practices that will make our industries as truly rich and diverse as our country. To find out more and help support diversity within your industry visit www.creativeskillset.org
here
.
(IT/JP)
Top Related Stories
Click here for the latest broadcast news stories.