Broadcast News
29/11/2013
root6 Travels Light To BVE North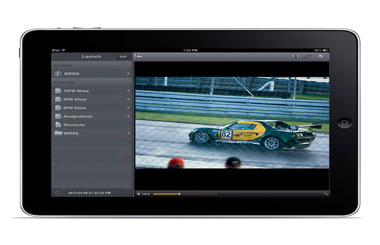 Forgoing the usual bulky racks of equipment, root6 travelled light to BVE North, leaving the heavy lifting back in its machine room.
A couple of laptops, and iPads with internet connections to the Soho HQ, were all that was needed to demonstrate some leading technologies in cloud-based operations.
Remote logging, editing and reviewing was demonstrated, highlighting technologies from the leaders in the field, Avid and Adobe. Avid Interplay Sphere enables global Media Composer editing workgroups to access a central media pool via the cloud and the logging tools in Interplay Central lets users sign in from any terminal, eliminating the need to tie up edit suites. Again, logging is centralised with all parties having access to rough-cuts with associated timecode. A new iPad review and approval app was demonstrated to considerable interest.
root6 also presented Adobe Anywhere, an alternative approach to global collaboration and project sharing, using the popular Premier Pro, Prelude and After Effects. The shared hardware rendering capabilities of the system make it particularly attractive to those in graphics intensive environments. The ubiquitous iPad also featured in the demo with a new app for reviewing.
Broadcast deliverables are another hot topic and root6 showed off the latest software enhancements to its very own ContentAgent file-based workflow management system. The new DPP AMWA AS-11 standard for UK broadcast deliverables is now handled as a completely automated end-to-end workflow, including the required metadata schema. Using the intuitive Workflow Designer tool, all aspects of transcoding and file-based QC are covered, and fast secure delivery is assured using Aspera FASP acceleration.
Another popular demonstration revolved around file-based archiving and management featuring Front Porch Digital's LYNX, the industry's first enterprise-scale cloud implementation of Content Storage Management. Replacing capital-intensive equipment with private, public, or hybrid cloud services, LYNX facilitates delivery to all channels, from traditional broadcast to online.
Remote control of multiple systems has been proven in service in recent root6 installations employing KVM extension with PC-over-IP (PCoIP) technology from Amulet Hotkey. It supports high resolution, full-frame rate 3D graphics and high-definition media, multiple large displays, full USB connectivity, and high definition audio, all connected over the corporate LAN or WAN.
"This was a very interesting exercise for us," said root6's John Harris. "Firstly it was great to be going to a show without the physical burden of the kit, but we able to demonstrate real-world practical examples of the cloud in action. Cloud technology, while having considerable implications for business models, can also significantly enhance creative effort by linking appropriate talent efficiently without the constraints of location."

Top Related Stories
Click here for the latest broadcast news stories.