Broadcast News
07/11/2013
Camera Corps Q-Ball And MiniZoom Generate Fright Night Excitement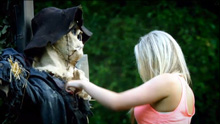 Camera Corps' Q-Ball and MiniZoom remotely controlled equipment were selected recently for a new one-hour-format television show broadcast by UK TV on Halloween.
'Release the Hounds' combines horror and humour and is hosted by television and radio presenter Reggie Yates.
Produced by Gogglebox Entertainment, the show sees three unsuspecting contestants enter a forest at dusk, in a quest to unlock chests full of prize money.
But in order to win big, they have to face the even more terrifying challenges such as passing through a field of crucified scarecrows, descending beneath the floorboards in a deserted cabin and read bedtime stories in the nursery from hell.
But the ultimate challenge for them all is to out-run a pack of hounds trained to guard the cash. If they manage to escape, the money belongs to them. The show's presenter is in communication from outside the forest, following the contestants' progress throughout their fright night ordeal.
The Q-Ball and MiniZoom systems were installed by Camera Corps riggers Joe Haigh, Steve Lundy, James Prentice and Doug Young. All 18 cameras were connected to the control room by a combination of long-range optical and 'Simply SMPTE' opto-electric hybrid links.
"Shooting took place in Hertfordshire," explains Fran Peters, Head of Production at Gogglebox.
"The location is surrounded by forest which provided an ideal venue for the required atmosphere. Our challenge was to conceal robotic cameras which would capture the excitement from a wide range of positions, including close-ups, follow-shots and wide-angle views, without cameras or camera operators intruding into view.
"The Camera Corps Q-Ball heads proved the perfect solution. The spherical shape allowed us to place individual Q-Ball cameras inside scarecrow heads which could rotate horizontally and vertically to track the action.
"Others were concealed to capture images from unusual angles. The Q-Balls are very easy to mount and allow simple plug-and-play connection to our production system. This saved a lot of time in rigging for multiple locations.
"The Q-Balls also have the huge advantage that they can be used at night under infra-red illumination which enables the viewing audience to see much more clearly than the contestants. The MiniZooms were used as stationary cameras, hidden in various parts of the forest."
The Q-Ball's recent projects include the BBC Proms, Summer and Winter Olympics, international football, motor racing, water sports, tennis, football and rugby.
It is a weatherproof cast-aluminum sphere of similar diameter to a standard Compact Disc or DVD. Inside is a 1080i camera with 10:1 zoom optics plus a fully rotatable pan and tilt head. High-precision motors allow the operator to adjust the camera angle from practically any location, including smooth adjustment of vertical and lateral tracking speeds.
www.cameracorps.co.uk
(IT/JP)
Top Related Stories
Click here for the latest broadcast news stories.