Broadcast News
15/10/2013
SADiE Helps Producer Steve Portnoi Capture Elgar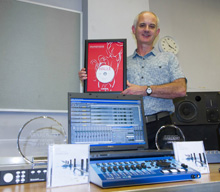 Producer and engineer Steve Portnoi recently selected a SADiE LRX2 from Prism Sound to produce a recording of Elgar's The Apostles for a double CD that was recently awarded a Gramophone Classical Music Award.
Portnoi's recording of the Hallé Chorus and Orchestra, conducted by Sir Mark Elder, won the 2013 Gramophone Award in the Choral category. Earlier this year, the CD also won BBC Music Magazine's Recording of the Year and Choral Recording of the Year Awards.
"I use the LRX 2 at every stage in the process," explains Portnoi. "I record both the live concert in the Bridgewater Hall and the rehearsal direct to the LRX. We want to keep the excitement that you only get at a live performance, so what ends up on the CD is essentially the concert recording. The rehearsals are only used to cover points where audience noise is obtrusive, or where there are minor blemishes, which could become annoying on repeated listening."
Portnoi's LRX configuration is two mic input cards, giving him 32 mic amps, and an AES card which he uses to connect to external devices and to give him extra track inputs.
"There were a lot of elements in this recording," Portnoi says.
"Not only did we have a full symphony orchestra to contend with, but we also had two choirs, six soloists, and for the first time on a recording of this work, a separate Apostles chorus, not to mention an offstage Shofar (a Hebrew horn)."
Back at his studio, Portnoi used the LRX to create his stereo mix.
"For such a small box, the LRX is a remarkably powerful mixer, enabling me to create the sound-world that I require, as well as matching the sound of the empty hall to the concert mix," he says.
"Also, any shift in perspective of the soloists can be smoothed out using the LRX automation."
Any patch editing is also carried out on the LRX. At this stage Portnoi uses Izotope RX2 to remove some of the noises inherent in a live performance.
Portnoi has been a Sadie user since the early '80s and upgraded to Sadie 6 at the first opportunity, having helped with the Beta testing.
"Of course, I also use Sadie for the final, mastering stage. Sound Suite gives me full PQ and DDP mastering facilities."
www.prismsound.com
www.sadie.com
(IT/MH)
Top Related Stories
Click here for the latest broadcast news stories.