Broadcast News
04/10/2013
United Selects RTS For Live Muse Show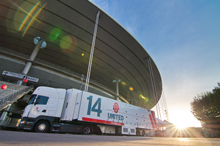 The Dutch company United assumed responsibility for the multimedia production of the Muse concert in Rome's Olympic Stadium last July. With 16 4K cameras, the recording set a new quality standard, while the 45-strong United team relied on intercom equipment from RTS.
In July, the British band Muse gave a concert in Rome's Olympic Stadium. The task of capturing the concert-going experience was assigned to the Hilversum-based media full service and broadcast specialist United, as the company – part of the Euro Media Group (EMG) – had already established a reputation in the field with live recordings of acts like Coldplay and Andrea Bocelli.
To record Muse's performance in the Olympic Stadium in Rome, United fielded a 45-strong team of sound engineers, audio technicians, riggers and cameramen.
Among them was Bolke Burnaby Lautier, the company's Operational Manager. The team was supported in Rome by Video Equipment Rentals (VER) and its Director of 3D/4K & Special Projects, Aaron James.
"This production marked a new milestone," said Burnaby Lautier, "as the entire show was filmed exclusively in 4K resolution – with no fewer than 16 cameras."
The norm for concert recordings is six to eight cameras; here, however, United wanted to emulate the experience in 4K digital resolution – hence the enormous outlay.
A decisive role in the complex and lavish production fell to the communications equipment on board United's OB-14 truck.
The flagship of United's outside broadcast fleet is capable of accommodating up to 30 HD cameras, whilst the nerve centre of communications on board is an ADAM intercom matrix from RTS with a 144-port configuration.
Equipped with redundant power supplies and controllers, the integrated MCII-e Ethernet master controller furnishes an Ethernet connection between the ADAM intercom and a PC running AZedit software.
The ADAM matrix supports up to 32 AZedit connections via Ethernet as well as three PCs connected in series. In addition to the ADAM matrix, OB-14's impressive inventory includes over 40 RTS keypanels from the KP-12 and KP-32 series. Twelve RTS 2W/4W interfaces as well as 25 beltpacks round off the intercom installation on board the rolling control room.
"We had to use the biggest truck in our fleet," says Burnaby Lautier, "because we had a huge amount of equipment to integrate and it takes up a great deal of space. Besides which, OB-14 is equipped with a complete 4K copy bank. After all, we needed to manage recordings of up to 100 channels. The intercom spec was also of great importance, as it would have been impossible to obtain perfect recordings without high-quality and reliable communications equipment. Fortunately, we were able to rely here – as we have, now, for many years – on systems from RTS, which, far from letting us down during this pioneering production, formed the basis of our success."
www.rtsintercoms.com
(IT/CD)
Top Related Stories
Click here for the latest broadcast news stories.