Broadcast News
30/10/2018
RSC Embraces RTS ROAMEO Fully IP-Based Wireless Intercom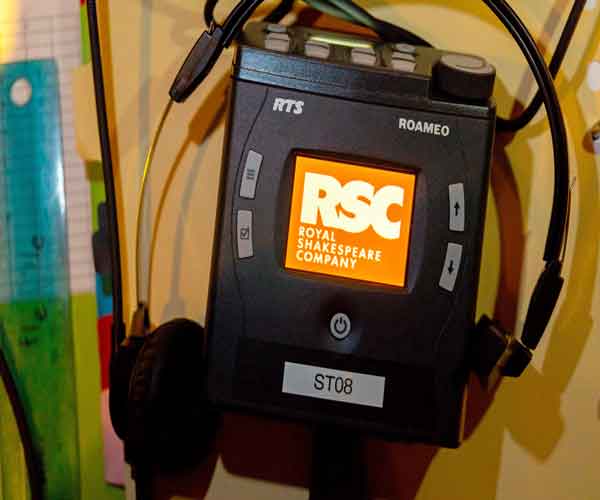 Few theatrical productions are as eagerly anticipated as the Royal Shakespeare Company's (RSC) production of Romeo and Juliet, now playing at The Royal Shakespeare Theatre in historic Stratford-Upon-Avon. But while all eyes in the theatre are on leads Bally Gill and Karen Fishwick, the technical crew are benefitting from equally perfect casting in the shape of RTS ROAMEO fully IP-based wireless intercom.
The ROAMEO system was chosen to deliver improved audio quality and safer working practices within the Royal Shakespeare and Swan theaters. "The rapid changeovers from matinees to evening performances required constant re-routing and re-patching – a very time consuming task," explained RSC Head of Sound Jeremy Dunn. "We were also restricted by the physical limits of a hard-wired infrastructure. We'd been using a hard-wired RTS system for years and loved it, but with the move to 4G and 5G, we found it was extravagant to use up radio mic frequencies for comms. We had to move from analog to digital."
Courtesy of UK supplier Amber Sound, a centrally located RTS ADAM-M modular matrix now forms the heart of the system. "Amber Sound has been advising and supplying the RSC sound department for over 10 years. They arranged a detailed demo of the ROAMEO system and their continuous support as we have expanded, changed and adapted the system has been exceptional. It's the core of our communications, bringing together the stage manager, the deputy stage manager, the wardrobe staff and all the stage technicians," Dunn continues. From this central hub, OMNEO cards transmit to 16 access point antennas, each one covering four channels, and supplying broadcast quality audio via Dante to eight KP-series keypanels and up to 40 ROAMEO beltpack users on RTS headsets.
"The audio quality sets RTS apart," notes Dunn. "Wearing a headset for 12 or 13 hours a day is tiring. It has to be intelligible and pleasant to listen to, and that's what carried us into the world of ROAMEO and ADAM-M." The RSC's use of special effects also meant the system had to be robust. "We feel safer now doing live pyrotechnics and human flying. Once the beltpacks are logged in, an IP address is assigned and an antenna located, then you know it's totally secure."
The ADAM-M matrix also supplies the RSC's 450-seat Swan Theatre. "We originally intended to have an ADAM-M in the Royal Shakespeare Theatre and an ADAM-M in the Swan, but RTS worked out a way to add more cards to the existing frame and install a simple network switch in the Swan. Having only one frame to serve both theaters is brilliant. Just four extra rack units and some CAT-5 was all that was required. It's a very cost effective solution.
"The icing on the cake is the RSC splash screen designed for the beltpacks by RSC senior sound technician Andy Franks – it's just the cleverest thing and typical of the attention to detail that we've come to expect from RTS," he concludes.
www.rtsintercoms.com
Top Related Stories
Click here for the latest broadcast news stories.