Broadcast News
27/09/2013
DPA: Live Microphone For Every Application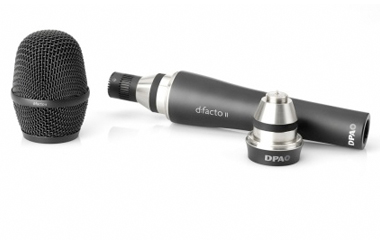 DPA Microphones' award-winning d:facto II Vocal Microphone is just one of a number of high quality microphones dedicated to the live stage that will be on show at PLASA 2013 (Stand E71).
In conjunction with its UK distributor Sound Network, DPA will highlight the breadth and depth of its live sound microphone range, which now caters for every eventuality and offers something for everyone.
"Regardless of whether you are recording or amplifying, we now has a microphone for every live miking situation," says DPA's CEO Christian Poulsen. "The launch of the d:facto II Vocal Microphone was a major step forward for DPA as it meant we could finally offer vocalists DPA's renowned audio quality in a beautifully designed, hand-held wired or wireless unit. In addition, we also have our innovative d:voteT 4099 Instrument Microphones and our lightweight, easy to wear d:fineT Headset Microphones that are so popular with theatre and musical productions and are increasingly in demand for live concerts where singers want superior sound as they dance and perform."
DPA live sound solutions also include the recently rebranded d:dicateT range of Recording Microphones that have long delivered superb audio quality to musicians who want to use a microphone on a stand. Among these is the d:dicate 2011C Twin Diaphragm cardioid microphone, an all-round workhorse that is optimized for on-stage use and gives superb clarity, richness and dynamics.
Visitors attending PLASA 2013 will also have the opportunity to see DPA's new MMC4018 modular supercardioid condenser capsule that is now an integral part of the d:dicateT Recording Microphone range. The MMC4018 offers a highly directional pattern and an extremely controlled off-axis response, thus ensuring exceptionally smooth sound.
Unlike the DPA d:dicate 4017 Shotgun, which includes an interference tube and is therefore more directional, this new variant offers more consistent rear rejection (almost no back lobe), making it ideally suited to spot miking in orchestras.
The modular nature of DPA's d:dicate Recording Microphone range has enabled the company to expand its remit by entering the installation market. To this end it has introduced new desktop and podium microphones that give AV installers and conference organisers the clear, transparent and precise sound they demand.
DPA's new MMC4018 capsule is the standard recommendation for the d:dicate podium microphone. By combining the capsule with different active booms and cables, installers can specify the exact microphone for their needs. For example, an MMC4018 capsule combined with an MMP-C compact pre-amp makes an ideal desktop microphone, while the same capsule combined with an MMP-E modular active cable is perfect for applications where the microphone needs to be hung from the ceiling as the preamp only adds 12mm to the capsule - and thanks to its integrated cable it is very inconspicuous.
DPA Microphones
(MH/JP)
Top Related Stories
Click here for the latest broadcast news stories.