Broadcast News
18/09/2013
Elstree Studios Development Takes A Major Step Forward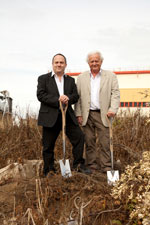 A multi-million pound development of Elstree Studios to provide new media facilities for the film and television industry and an economic boost to Hertsmere has taken a major step forward this week.
The beginning of works on four acres of land at the Studios which is to be levelled to allow the construction of new media production facilities on the world famous site was marked by a ceremony on Tuesday 10 September.
Studios' Managing Director Roger Morris and Leader of Hertsmere Borough Council and Chairman of Elstree Studios, Morris Bright, launched the beginning of the works. 
Roger Morris said: "The industry needs more production space. Elstree Studios has re-established itself as one of the top UK Studios attracting work from across the film and television industry including many major Hollywood productions. This new development at our site will allow the studios to take advantage of an expanding market. Over the past four years, Elstree has managed to capture many of the major television productions in the UK and a number of major international feature films. We look forward to having more space to meet our clients' needs in the years ahead."
Morris Bright added: "This work will increase the size of the studios by 25% and is the first major development at Elstree in over 15 years. The mound has been at the back of the site for 30 years and the investment from the local authority and Local Enterprise Partnership reflects the importance the studios site to the Borough of Hertsmere. I am looking forward to the Studios moving ahead with this exciting project for the benefit of both the media industry and the residents of Hertsmere."
Studios-owner Hertsmere Borough Council accepted a £2 million loan towards the £4.5 million project from the Hertfordshire Local Enterprise Partnership's (LEP) Growing Places Fund at the end of last year. The remaining £2.5 million for the project is being invested by the council.
Elstree Studios is known as London's leading film and TV studios, and attracts many top feature films and television shows including Oscar-winning film The King's Speech and BBC's Strictly Come Dancing, but a lack of studio capacity has meant business has previously had to be turned away.
As well as creating jobs for the local community, the project will bring in additional monies to the national and local economies.
The studios currently generate over £1 million in rental income for the council, the equivalent of almost 20% of the council tax subsidised for every home in the borough. The income from the studios helps to pay for services important to residents and keep council tax charges low.
www.elstreestudios.co.uk
Top Related Stories
Click here for the latest broadcast news stories.