Broadcast News
06/09/2013
Addressing Diversity In NI's Creative Industries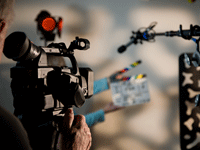 In Northern Ireland the diversity debate has traditionally been dominated by arguments surrounding the old sectarian divide. These have drowned out wider concerns, from the number of women and disabled people in the workforce, to the growing multi-cultural population and, in a society which is heavily influenced on all sides by deep, religious convictions, discrimination on the grounds of sexual orientation.
The creative media industries must have a voice in the broader debate on what diversity means in Northern Ireland. This isn't simply for altruistic, moral or ethical reasons – understanding and tackling diversity issues and underrepresentation within our industries is also good for business.
Diverse global markets provide potential economic and creative growth and sustainability for businesses. Northern Ireland is increasingly becoming a popular choice of location for film and TV productions, with recent examples including Game of Thrones, Dracula and Line of Duty. Attracting and retaining diverse talent within the film and TV industries in Northern Ireland is vital for the creativity and innovation that drives our industries forward and will ensure our work appeals to these new audiences. We must ensure that under represented groups have effective routes into, as well as the opportunity to progress in their careers by ensuring long term and sustainable action is undertaken.
In the Employment Census, Creative Skillset provides a picture of the current levels of diversity within our industries. This shows there is still work to be done – for example, Black, Asian and Minority Ethnic (BAME) representation in the working population in Northern Ireland is 2.9% - but only 1.8% in the creative media industries.
Getting diversity on the industry agenda is a top priority for Creative Skillset. At this month's high profile Belfast Media Festival, we are running a 'What Price Diversity?' session. Susan Lovell, Head of Commissioning at BBC NI, Stuart Cosgrove, Head of Diversity at Channel 4, Kate O'Connor, Executive Director at Creative Skillset, Joyce Adeluwoye-Adams, Head of Diversity at PACT and Zhenia Mahdi, artist and documentary filmmaker will be leading the debate on whether our industries are doing enough to address underrepresentation in both the processes and in recruitment of the workforce and talent, diversity of output and portrayal of underrepresented groups in content.
Beyond the Festival, Creative Skillset is also working with industry partners to develop services to reach out to, train and celebrate the success of diverse talent. This includes widening routes into the industry to attract and retain a new generation of bright and diverse new talent. Aim High 2, for example, is a TV new entrants programme run in partnership with NI Screen and BBC Northern Ireland, where 10 trainees will undertake a series of paid placements and training within independent production companies and the BBC. Aim High 1 finished in March this year and all 15 participants are now in full-time employment in the industry.
Through our funding for training and investment in mentoring schemes, as well as accreditation of higher education courses and promotion of best practice through our guidelines for internships, Creative Skillset is also focussing on providing interventions for those looking to progress their careers, and offering a long term solution to the diversity issues that the film and TV industries are facing.
Creative Skillset is a member of the Stonewall Diversity Champions programme and has been ranked as one of Stonewall's Top 100 Employers since 2008.
Read the article in the online edition of Regional Film & Video
here
.
(MH/CD)
Top Related Stories
Click here for the latest broadcast news stories.