Broadcast News
17/12/2009
Training Boosts Welsh Creative Media Industries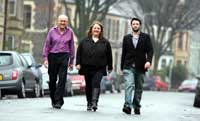 Additional support for those working in the Welsh Creative Media Industries has arrived in the form of a cutting-edge training programme, formed by Skillset Cymru, Skillset Screen Academy Wales and the newly created Skillset Media Academy Wales.
The Skillset Academi+ programme will provide targeted training and careers advice for Welsh production companies, freelancers and new entrants. The concept for the programme draws on hard evidence produced by Skillset Cymru on the impact of both the recession and rate of change in digital technology on the Creative Media sector in Wales.
The research has highlighted the need for targeted support for the types of skills needed to boost employability.
The eighteen-month programme will enable companies and individuals at all stages of their careers to improve their existing technical and business skills or to re-skill for the digital age.
Welsh Producer, Director and Trainer Sue Jeffries has been appointed to the post of Project Coordinator, bringing to the role over 30 years of experience in the Welsh creative sector. She said: "The content of our courses has been shaped by feedback from industry practitioners on priority skills gaps and training needs. Skillset Academi+ will draw in training from industry professionals, the academic partners and other training providers, which will provide a unique opportunity for those working within the industry in Wales."
The Skillset Academi+ scheme is a collaboration between Skillset Cymru, Skillset Screen Academy Wales and its partners (University of Glamorgan; University of Wales, Newport; Swansea Metropolitan University and The Royal Welsh College of Music and Drama), as well as the Skillset Media Academy consortia partners; University of Aberystwyth and the Cardiff School of Journalism, Media and Cultural Studies.
Together, this higher education partnership will ensure an even focus on film, television, interactive media, radio, broadcast journalism, games, animation and business development.
Many of the courses will be offered in collaboration with recognised training providers, while others have been developed in-house by the higher education partners. Courses will be hosted across Wales and a percentage will be offered in Welsh.
Screen Academy Wales Project Manager Hannah Raybould said: "Skillset Academi+ is an exciting new venture for this partnership. It aims to address the skills and training needs of the creative media industries in Wales at a time of immense technological change and economic instability.
"Access to quick and efficient training and career advice and guidance that is led by industry will enable new entrants and freelancers to develop new skills for sustainable employment and help companies develop new business models and revenue streams."
Further information is available at:
www.skillsetacademiplus.org
.
(KMcA/BMcC)
Top Related Stories
Click here for the latest broadcast news stories.