Broadcast News
14/08/2013
Good News For Wales!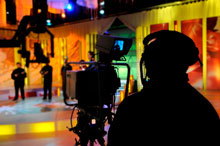 Creative Skillset's Employment Census results are released, and it's good news for Wales. Huw Walters, Director of Creative Skillset Cymru, explains more…
Creative Skillset's Employment Census 2012, just published, shows a significant increase in the creative media workforce in Wales. There are now 16,850 people in the industry, up from 9,300 since 2009. This now represents an impressive 10% of the UK's creative media workforce, making our industries both economically and culturally significant, not only for Wales but for the UK and the rest of the world.
The findings reflect the recent successes of the film and TV industries, with international productions such as Snow White and the Huntsman and Da Vinci's Demons opting to film in Wales, coupled with the BBC opening Roath Lock studios in 2012. This has established Cardiff as a centre of excellence for drama, producing the highly-acclaimed Doctor Who and Casualty. Independent productions such as Stella (Tidy Productions) and Indian Doctor (Rondo Media) are proof of the quality and range of programmes developed and produced by Welsh companies for UK and international networks.
While this success should be rightly celebrated, it is vital we do not rest on our laurels. As an industry, we must ensure that this growth is sustainable for years to come and having a highly skilled and talented workforce is central to this. To ensure this is the case, Creative Skillset's research programme not only measures the size and shape of the industry, but also identifies skills gaps and training needs, so investment in skills development is targeted to support industry needs.
The large number of freelancers in Wales (the 2012 Census revealed 29% of people are employed on a freelance basis in Wales, compared to 24% across the UK), makes identifying and addressing barriers to development and providing support for the freelance population particularly important.
Through funding schemes, including the Skills for the Digital Economy Programme, Creative Skillset, in partnership with the European Social Fund through the Welsh Government, S4C and TAC is able to invest in skills development in key areas including production management, hair & make-up, editing, business and entrepreneurial skills. The growing games and VFX sectors are also being targeted.
Events such as Fast Train, co-produced by Creative Skillset and the BBC Academy, also support the freelance TV community through free workshops, training and networking opportunities. Our TV and film industries rely on a constant supply of new ideas and talent to encourage future growth and we must ensure that those entering the industry are given the opportunity to flourish. To support this, Creative Skillset's Creative and Digital Media Apprenticeship has been developed to offer an alternative route into the TV industry.
This gives new and diverse talent the opportunity to get their first job in the industry while learning and growing their skills through on-the-job training with companies such as BBC Cymru Wales, Cwmni Da, Horse & Country TV, Telesgop and RealSFX.
Whilst we know there is still work to be done to ensure the creative media industries in Wales can continue to thrive with a fully equipped and highly skilled workforce, the recent census results show that we are most certainly heading in the right direction.
Read the article in the online edition of Regional Film & Video
here
.
(IT/JP)
Top Related Stories
Click here for the latest broadcast news stories.