Broadcast News
02/08/2013
Technicolor Completes C4 Drama Project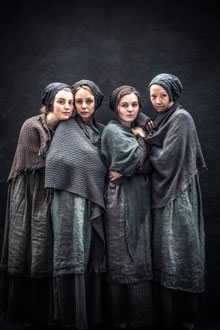 Technicolor has announced its recent colour grading and VFX work on a new, four-part historical mini-series called The Mill.
The Channel 4 drama is set in 1833 and is based on real events that took place at the Quarry Bank Mill in Cheshire.
Technicolor worked with the production team both on location and during post production, providing grading, VFX and on location services.
Technicolor credits include Paul Ensby, senior colourist; Simon Giblin, on-line editor; Dolores McKinley, VFX and Dan Mulligan, on location services, working on the project.
"The Mill was shot using a Arri Alexa digital camera system and the grade was performed earlier this year using Autodesk Lustre," says Paul Ensby, Principal Colourist, Technicolor Creative Services.
"The setting of the series is rural-industrial England during the 19th century, so our brief was to be as cinematic as possible to ensure a gritty, authentic look and feel. It was shot using 235 letterboxing which suited the feel throughout the episodes and created a real cinematic atmosphere. We selected a filmic style curve to provide a nice black with plenty of highlight detail."
A large part of the mini-series was filmed at the Quarry Bank Mill, now a National Trust property.
"The Mill is styled in a cool, atmospheric light with a fine contrast. It is set mostly in the winter months so we kept a slightly cool feel for the exterior shots, but with plenty of colour saturation to enhance the tones of the costumes when they appear on screen. For the night scenes, rich shadows with detail were carefully controlled to emulate the naturally low light levels given by candlelight or oil lights. In the more opulent surroundings, we chose a slightly warmer palette which worked well with the set design in these areas," says Ensby.
www.technicolor.com
(IT/JP)
Top Related Stories
Click here for the latest broadcast news stories.