Broadcast News
30/07/2013
DANTE Key To Tackling Societal Challenges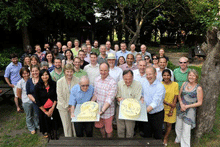 The Vice President of the European Commission has said the non-profit internet network infrastructure organisation DANTE (Delivery of Advanced Network Technology to Europe) is key to tackling modern societal challenges.
Neelie Kroes made the announcement in July, on the 20th anniversary of the organisation.
Commenting on DANTE's two decades of providing internet network to the European research community, Ms Kroes said: "DANTE's work is essential to the European and global research community. World-class internet networks, through GÉANT and the regional networks it manages, are fundamental to realising the EU's 2020 vision for the European Research Area, and key to helping us tackle societal challenges such as food and energy security, health and aging, and environmental protection.
"DANTE has my full support and well wishes to continue its innovative journey in support of research and education, across Europe and beyond."
The organisation was founded in 1993 to provide a high-speed internet network for the European research community.
It has to date created and managed four consecutive generations of the network.
Dai Davies, who founded DANTE with Howard Davies, author of "History of International Research Networking – The People who Made it Happen", said: "We have come a long way in 20 years. In 1993, we were building networks with 64 Kbps connections. Today we use 100Gbps, a factor of one and a half million increase. But it is not just about technology, services play an increasing role enabling all researchers - not just the technically literate - to benefit from R&E networks. It is difficult to believe now, but in 1993 e-mail was a new service. Today we offer many more advanced services allowing researchers to manage their own network needs."
Niels Hersoug and Matthew Scott, Joint DANTE General Managers, said:
"Twenty years ago we could never have dreamed that research and education networking would grow to the extent it has today. By enabling people to work together, regardless of location, and to effortlessly exchange huge volumes of data, DANTE's work is advancing innovation, economic development and productivity in ways that will benefit us all. Be it through advances in climate research, medical developments, food production or high-energy physics; they all rely on the high-speed networks of DANTE and its partners."
www.dante.net
Top Related Stories
Click here for the latest broadcast news stories.