Broadcast News
13/03/2014
Audinate And Aviom's D800-Dante A-Net Ships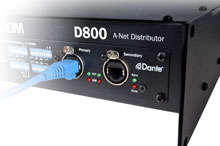 Audinate and Aviom have announced that the D800-Dante A-Net Distributor is now shipping.
This unit, along with the new D800 A-Net Distributor, which is also shipping, distribute audio and power to up to eight Aviom personal mixers and make Aviom systems easier to integrate with various digital consoles and networks.
After licensing Audinate's Dante protocol last year, Aviom used the protocol to create the new distributor because the integration of Dante allowed users with consoles and networks from various manufacturers to connect to an Aviom personal mixing system.
Dante is a plug-and-play networking solution that delivers low latency and tightly synchronised media, while simplifying installation and configuration of digital media networks.
Aviom's product research and development manager, Ray Legnini, says: "The D800-Dante A-Net Distributor is one of the simplest solutions for getting up to 64 channels into the network digitally. With the D800-Dante, both channels going to the Aviom personal mixers and stereo mixes back from the personal mixers can remain in the digital domain, thus simplifying the workflow. Dante is an effective solution for users looking to integrate their audio gear across a single network."
"Aviom has always been known for their innovative, technology-based products that meet the needs of audio professionals and musicians working in a number of environments," says Lee Ellison, CEO of Audinate.
"The D800-Dante A-Net Distributor provides Aviom customers with a means to integrate easily with the rapidly expanding number of audio products on the market that are already operating on a Dante network."
The D800-Dante A-Net Distributor facilitates connections to Aviom personal mixers by making it possible to connect directly to any Dante console or network. With the D800-Dante A-Net Distributor, 64 channels from the network can be available to the personal mixers in the system. Each performer with an A360 Personal Mixer can mix those channels he or she wants from this pool of 64 available channels.
Both the D800 and D800-Dante A-Net Distributors are compatible with Aviom's A-16II and A-16R Personal Mixers, but when used with the A360 Personal Mixers, the D800 and D800-Dante also offer the new Network Mix Back™ feature.
Network Mix Back sends a digital copy of the stereo mix output from each A360 Personal Mixer connected to the D800 or D800-Dante back to the Dante network or to an AN-16/o v.4 Output Module for connections to musicians' wireless in-ear transmitters.
With Network Mix Back, transmitters for wireless in-ears can be set up off stage and cabling for the personal mixers on stage is simplified. In addition, both D800s serve as a communications hub for iOS devices connected via an Ethernet WiFi router. iOS support for the A360 is scheduled for release later this year.
www.aviom.com
(IT)
Top Related Stories
Click here for the latest broadcast news stories.