Broadcast News
30/07/2013
Broadcasters Missing Out On Revenue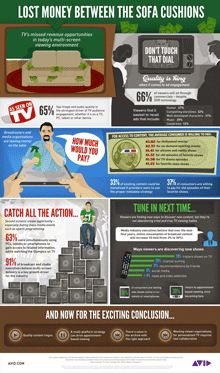 Broadcasters and media organisations are missing out on untapped revenue in today's modern, on-demand, multi-screen culture, according to a new report by Ovum.
37% of viewers are willing pay for high-quality personalised content, while 65% identify image and audio quality as a key driver of enjoyment, according to the report, which was commissioned by Avid.
"Producers and content service providers will protect and maximise the value of their media assets when they can dynamically match content with context," said Adrian Drury, lead analyst, Media & Broadcast, Ovum. "At the heart of this challenge is an effective metadata strategy."
Broadcasters say they do recognise these unrealised opportunities, but are challenged to maximise asset value within current systems.
An earlier Avid and Ovum survey of media executives found that 33% percent of existing content could indeed be monetised, but most of the archived material is currently inaccessible.
The survey also found that 39% of respondents discover new shows through trailers shown on TV, while channel surfing makes up 20%.
14% of consumers are testing new shows online, or on tablets or smartphones and 30% of consumers who test new shows through online services return to appointment-based viewing once they become fans.
"Broadcasters and advertisers are under tremendous pressure to simultaneously grow profits and audience share," said W. Sean Ford, vice president of Worldwide Marketing and CMO, Avid.
"Our latest research with Ovum convincingly argues that media organisations best poised to win will be those capable of implementing an effective strategy that drives monetisation, while incorporating a collaborative, end-to-end production workflow that speeds the development of high-quality content."
www.avid.com
(IT/CD)
Top Related Stories
Click here for the latest broadcast news stories.