Broadcast News
30/07/2013
BBFC Releases 2012 Report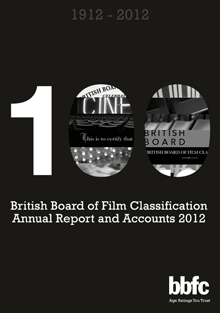 The British Board of Film Classification (BBFC) has released its 2012 annual report, looking back on the body's centenary year.
Protecting children from viewing harmful content was one of the major tasks undertaken by the Board last year, not least through an amendment to 1984's Video Recordings Act (VRA).
Following a DCMS consultation on exempt video, the BBFC, British Video Association, British Phonographic Industry, the Video Standards Council and the Entertainment Retailers Association supported an adjustment to the VRA that means potentially harmful content in exempt videos should lose the video its exemption.
As always, one of the Board's biggest grievances is the use of sexual violence in visual content; most notably against women.
Following a large number of films having been submitted to the BBFC in 2011 that contained extreme violence, the board carried out research into depictions of sexual and sadistic violence in film in 2012.
In May 2013, the government announced that a change would be made to the Video Recordings Act, accordingly.
BBFC Director David Cooke said: "In 2012 the BBFC worked with both government and the home entertainment industry to maximise the impact of our expertise in tracking public opinion and protecting children from potentially harmful content through both digital age ratings and informing the DCMS consultation on exempt videos.
"At the adult 18 level we took extra steps to ensure our policy on depictions of sexual and sadistic violence are in line with public opinion. Research carried out in 2012 reaffirmed views that adults should be able to choose what they see, but highlighted a public concern about certain depictions of sexual and sadistic violence. This concern was particularly acute in relation to young men without much life experience, and other vulnerable viewers, accessing sadistic and sexually violent content, which could serve to normalise rape and other forms of violence, and offer a distorted view of women."
Online was the area in which the BBFC saw the greatest changes in 2012, with the number of online-only classifications rising by as much as 40%.
The number of companies using the BBFC's Watch & Rate service more than doubled, with 11 new platforms licensed to use BBFC ratings online, including Netflix, Sony PlayStation, Microsoft Xbox and Sainsbury's, BA and Virgin Atlantic.
It being the BBFC's centenary year, 2012 saw the Board celebrate in style, with the return of 'retro' BBFC black cards, which were shown before every film released that year.
A season of controversial films, panel events and an exhibition were held at BFI Southbank in London. The BFI also published a book, 'Behind the Scenes at the BBFC: Film Classification from the Silver Screen to the Digital Age', while further collaborations included an exhibition in partnership with University of Westminster, celebrating 100 years of British Cinematic history, and events at the Hippodrome in Falkirk and Soundtrack Festival in Cardiff.
Director David Cooke added: "In 2012 we looked back at our first 100 years, often in partnership with numerous organisations and individuals, all of whom added richness and expertise to our celebrations. But in examining the past, we also looked towards the future, where the BBFC will continue working with current and new partners to classify and label online content, better protect children and empower consumers."
www.bbfc.co.uk
(IT/CD)
Top Related Stories
Click here for the latest broadcast news stories.