Broadcast News
08/07/2013
IBC Awards Shortlist Announced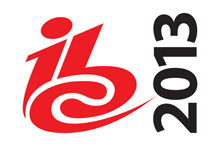 IBC has announced the shortlist for its 2013 Innovation awards.
The 10 finalists come from nine different countries and include achievements from a new way to get close to sports action through dynamic workflow management, to the latest in delivering interactivity.
"This year our shortlist reflects the remarkable breadth of our industry, from a blockbuster movie to the research behind getting the best possible HD quality to the home," said Michael Lumley, chairman of the IBC2013 Innovation Awards judging panel.
"We have a remarkably diverse and fascinating shortlist this year, and like everyone I am keenly awaiting the ceremony at IBC and the announcement of the winners."
The award goes to end users who have brought together the technology partners and collaborators to realise a creative, commercial or technical goal. There are three categories, for projects in content creation, content management and content delivery.
The winners will be announced during the IBC Awards Ceremony, to be held on Sunday 15 September.
Content Creation
The first of the four nominations for most innovative content creation project goes to Fox Sports in Australia.
Working with Globecast it developed a helmet camera for use by batsmen and wicket keepers, using wireless HDMI to keep the weight down, with signals converted and relayed by transceivers carried by the umpires, who have their own cap cameras.
The BBC is being nominated for last year's Olympic Games coverage.
The broadcast involved technical partners including Antares, Bradley Engineering, Cobham, LiveU and Mobile Viewpoint.
ITV in the UK has been anounced as another finalist, for recent work with Adobe on its Story project.
This is now used on two primetime soap operas, not just for collaborative script development but for production management to plan shooting schedules around the actors.
Park Road Post Production from Wellington, New Zealand is the fourth finalist, along with its technology partner SGO, for work on Peter Jackson's The Hobbit: An Unexpected Journey: the first high frame rate, high dynamic range 3D mainstream movie.
Content Management
T-2 in Slovenia has been shortlisted for its IPTV service, which is accessible on smart televisions, connected set-top boxes, computers, and Android and iOS mobile devices.
Irish national broadcaster Raidio Teilifis Eireann has received a nomination for its file-based infrastructure.
In a two-stage project in which the first stage proved the concept for senior management and allowed key workflows to be developed alongside staff familiarisation, RTE worked with TMD.
RTBF in Belgium recently developed GEMS with partners Perfect Memory and Memnon.
Through semantic search, automated speech to text conversion, natural language processing and open data connections GEMS delivers media and information through an intuitive graphical interface.
Content Delivery
Dutch cable company Ziggo has delivered has formed a technology partnership led by ActiveVideo and including Seachange, Samsung, Humax, Unitid and Webadvance to meet the challenges of packing a powerful user interface into the limited processing power of legacy set-top boxes.
This year the Japanese Commercial Broadcasters Association has earned a place on the shortlist.
It has been working, with NTT Communications, Fujitsu and Juniper Networks, on a next generation platform to deliver terrestrial HD television, using multi-protocol label switching (MPLS), a cutting edge IP transmission technique.
The third finalist in content delivery is Abertis Telecom in Spain. Working with Harmonic and Nagra it has developed a cloud-based multi-screen delivery platform. It is set to be the first commercial implementation of the MPEG-DASH specification.
www.ibc.org
(IT/JP)
Top Related Stories
Click here for the latest broadcast news stories.