Broadcast News
30/09/2013
RTÉ Wins IBC Award For Content Management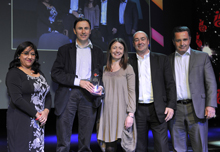 RTÉ's FAST project won the IBC Innovation Award for Content Management at a ceremony during this year's show in Amsterdam.
The FAST project, which works as a file-based rather than tape-based system, was a collaboration between RTÉ, TransMedia Dynamics (TMD) and Eurotek.
FAST (File Acquisition and Server Technology) was created to enable the Irish broadcaster to move away from tape-based operations and prepare for file-based programme delivery from international and local suppliers.
As a public body, RTÉ selected the key supplier by open tender.
TMD was the succesful bidder and was involved in testing the system and designing the workflows.
Systems integrator Eurotek designed and integrated the broadcast equipment infrastructure and system platform and provided the interconnectivity to allow the system to develop applications and workflows in processes like promo creation, compliance viewing, quality control, transcoding and delivery.
Noel Curran, Director General, RTÉ, said: "The move towards handling RTÉ video content as files is evolutionary more than revolutionary. A key objective in RTÉ's strategy is to lead within our sector. To remain relevant to our audiences RTÉ must continue to embrace new technology. This win is important: it tells us that, even in challenging times, RTÉ has the vision, and the people, it needs to become the best public-service media organisation it can be."
Richard Waghorn, Chief Technology Officer, RTÉ, and sponsor of the FAST project, added: "FAST is a key project for RTÉ as it enables us to realise a number of efficiencies and streamline the way we handle content. The heart of any file based architecture is the asset management system, and FAST is key for supporting the move towards an end-to-end file based workflow. One of the key aspects of this system is that workflows are not hard coded into the system, but rather FAST allows users to assemble their own pre-sets and routines, and build them into workflows themselves."
Following the implementation of FAST, RTÉ will now aim to increase the amount of high-definition content it can make available on RTÉ Two and, over the coming months, on RTÉ One.
Image: Myles Donoghue - Project Manager, RTÉ, Gillian Byrne - Broadcast Business Support Manager, RTÉ, Tony Taylor - Chairman & CEO, TMD, John Roche - Group CEO, Eurotek Ireland Ltd.
www.rte.ie
(IT/CD)
Top Related Stories
Click here for the latest broadcast news stories.