Broadcast News
29/04/2013
LED Screen For Colour Sound Experiment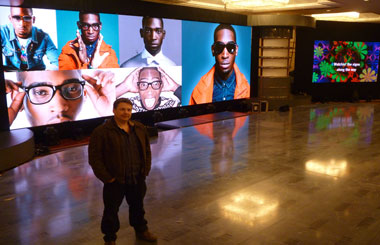 UK-based lighting and visuals rental company Colour Sound Experiment (CSE) has announced a substantial new investment in LED screen with the purchase of 100sq m of BT6 6mm pitch high resolution surface.
The product has been manufactured specially for CSE to their specifications and will join the company's existing stock of BT12 and BT37 screens.
They are all from the same factory, designed and built to the same exacting quality standards.
The BT6 features black-faced LEDs which offer a higher contract ration – in this case of 4000:1 – plus a much neater appearance.
It also has a high refresh rate of 4800 Hz which eliminates moiring and flicker, making it very camera friendly, an essential requirement with so many shows also involving IMAG/camera relay in some capacity.
As well as these advantages, it is very lightweight and quick and easy to rig. The bespoke rigging system is TUV certified, meets all the standard H&S requirements and works via a proven quick-lock fixing system for rapid deployment.
The LED screens also complement CSE's stock of Green Hippo, Catalyst and ArKaos media servers.
The first job for all 100 square metres of CSE's BT6 is for Vodafone.
Having large quantities of different pitch LED screen enables Colour Sound to offer its clients the most flexible, versatile and cost-effective 'visuals' solutions, which is suitable for both the sector and the specific designed environment.
CSE's Managing Director, Haydn Cruickshank, said: "It was clear that we needed a high resolution screen, in particular for our corporate work. Following good experiences with the other pitch screens, it made sense to work with the same team again to bring this one to the market."
www.coloursound.co.uk
(JP/CD)
Top Related Stories
Click here for the latest broadcast news stories.