Broadcast News
26/04/2013
Confederations Cup Partnership For Sony & FIFA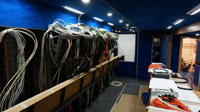 Sony and FIFA have announced they are to work together to trial live 4K production workflow at this year's FIFA Confederations Cup.
The international association football tournament will take place in Brazil this summer.
The announcement extends Sony's collaboration with FIFA and reaffirms its commitment to bringing new and innovative broadcast solutions to sports fans.
The trials themselves will take place at the Estadio Mineiro in Belo Horizonte, one of six stadiums being used for this year's tournament and will aim to test the process involved in capturing and delivering live 4K content.
The content itself will not be screened to an external audience, and the main focus of the trials will be on the technical and creative aspects of using 4K technology for live sports production and production workflow process, allowing Sony and FIFA to explore the possibilities of bringing 4K broadcasts to future sporting events.
During the tournament, Sony will be stationed at the Belo Horizonte ground. The Sony and FIFA team will produce 3 matches utilising the world's first purpose-built 4K mobile production unit supplied by the leading UK-based production company Telegenic. By testing the full workflow, Sony will have the opportunity to determine the precise skillsets, staffing and technical requirements to ensure the best possible experience for viewers.
Mark Grinyer, Head of Business Development, 3D, 4K & Sports at Sony, said: "We're tremendously excited about the FIFA Confederations Cup trials.
"We've got a long history of working with FIFA to ensure fans get the very best experience when watching sport. Sony is proud to be a pioneer of 4K solutions, and we're keen to see the benefits this exciting new technology can bring to the sports world. While various aspects of 4K broadcasting have been built and tried before, this trial will be a first in terms of the scope of production for live sports production. The FIFA Confederations Cup is going to be an important milestone for the future of 4K."
Niclas Ericson, Director of FIFA's TV Division, added: "The FIFA Confederations Cup is a perfect opportunity to trial new technology and production approaches to 4K, and we look forward to seeing how this tournament will help to shape the future of sports broadcasting."
4K provides 4 times the resolution of 2K and is already widely deployed in cinema production and cinemas equipped with Sony 4K Digital Cinema projectors. The quality of content recorded in 4K is simply stunning and allows both broadcasters and production communities to build a future-proof catalogue of premium content.
www.pro.sony.eu
(JP/MH)
Top Related Stories
Click here for the latest broadcast news stories.