Broadcast News
29/04/2014
Asia Gears Up For 4K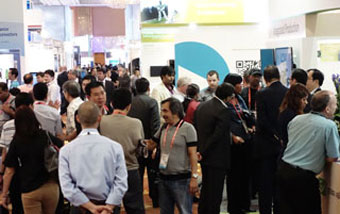 4K is "coming Asia's way," according to the organisers of BroadcastAsia, the digital multimedia and technology conference taking place this year in Singapore from 17 - 20 June 2014.
"Players from Asia's TV and broadcasting industries will be able to feast their eyes on the most avant-garde 4K technology available globally, presented by some of the world's foremost companies in the TV viewing playing field," a statement from the organisers said. International exhibitors such as Canon, EVS, Grass Valley, Quantel, Orad, Red Digital Cinema, Village Island, Sony and more will be showcasing their 4K/UHD products at this year's show.
Orad, a provider of real-time 3D broadcast graphic, video server and media asset management solutions, will be highlighting its new tapeless broadcast graphic and video server workflow technology Blend 4K Channel and Morpho 4K, at BroadcastAsia2014.
New Blend 4K Channel in a Box
is described as "the first ever real time 4K channel in a box solution" and offers a 4K clip server in XAVC and XAVC-S formats. The ultra HD XAVC uses level 5.2 of H.264/MPEG-4 AVC, offering colour depths of 8-bits, 10-bits, and 12-bits. 4K is now offered in a single box, providing a 4K server coupled with 4K real-time 3D graphics.
Blend 4K also enables live video insertion in 4K and HD resolutions. Both video and graphics are controlled from a single playlist or manually, from GPI or by external automation.
Morpho 4K for Video Walls
Morpho 4K is Orad's new real-time 4K video wall solution. Morpho 4K outputs can be arranged in different aspect ratios and layouts according to the shape of the video wall. It offers both real-time graphics and video capabilities from a single system. All on-screen elements remain synchronised across the whole of the video wall, with no tearing visible on any sections of the output.
"By 2016 the Asia Pacific Region is forecasted to become the single largest market for 4K TV, accounting for 42 per cent of total world 4K households," said Mr. Joel Lamdani, President Asia Pacific, Orad Hi Tec Systems. "The Asia Pacific Region being a hub of consumer electronics producers mainly in Japan, Korea, China and Taiwan are pushing to market new 4K TV as replacements for old HD ones. Films are already being shot in 4K and sports events are now testing 4K productions with the Brazil 2014 World Cup being a big trigger. Content companies from Terrestrial, Pay TV and Streaming IP companies are also gearing up for the distribution of this 4K content and Orad is in the forefront of this technology.
"Orad is already the market leader in providing leading TV stations in the Asia Pacific with its 4K technology for large video displays, providing them with true 4K and 8K video & graphics technologies for their large display walls. At the same time Orad is also positioned to provide its leading 4K virtual studio, real time graphics system and video servers all in true 4K supporting 1080p," Mr. Lamdani added
Quantel: Pablo Rio
Pablo Rio is Quantel's colour correction and finishing system that runs on PC hardware. "Offering realtime 4K 60p performance, interactivity and throughput, Pablo Rio blends quality and creativity in a package that delivers the productivity needed to succeed in high quality color and finishing today," a statement from the company said. Pablo Rio is available as software-only or as a turnkey system in a variety of configurations to suit HD, 2K, 4K and 6K Red Dragon realtime working.
Alongside 4K, technologies related to digital media, digital pre and post production, MAM, multi-screen/multi-platform streaming and OTT will be featured at BroadcastAsia2014. Other exhibitors who have confirmed their participation include AARIS, Akamai, Brightzone, Coship, Dalet, Dayang, DB Broadcast, Elber, Envivio, Gospell, Imagine Communications and GatesAir, Limelight, mStar, NEC, Pace, Pilat Media, Playbox, Ross Video, Screen Systems, Skyworth, Telestream, Thomson Networks, Toshiba, VIZRT, Wasp3D and Wohler.
www.broadcast-asia.com
(IT)
Top Related Stories
Click here for the latest broadcast news stories.