Broadcast News
26/03/2013
Deutsches Schauspielhaus Renovated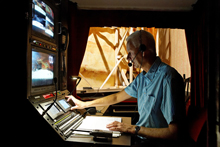 The famous Deutsches Schauspielhaus theatre in Hamburg is undergoing renovation work scheduled for completion in autumn 2013.
The stage manager's console, equipped with RTS intercom equipment, has now been moved to a temporary new location.
Amptown System Company was entrusted with the technical implementation.
The Deutsches Spielhaus opened in 1900 and seats 1,200, and is one of the largest in Germany.
The theatre's reconstruction and renovation is only the second since 1981-1984.
There will be no interruption of the schedule, as performances will continue on the so-called 'playing field' – a stage in the centre of the auditorium – until work is completed in the autumn.
In the course of the renovation, it was necessary to move the stage manager's console to a temporary location in one of the boxes. The planning and implementation of this task was entrusted to the Hamburg- and Berlin-based Amptown System Company (ASC).
"The stage manager's console is the most important tool at his disposal," says Stefan Thomsen, ASC's communications specialist.
"It allows him to coordinate the precise interaction of everyone involved in the production not only during rehearsals but also during performances."
At the heart of the installation is a 32 x 32 RTS Cronus matrix, two rack units in height and capable of accommodating up to four cards supporting eight ports each.
This is linked to nine KP-12 keypanels and four EKP-20 expansion panels. These, located variously in the lighting box, sound control room, mobile workstations and stage manager's console, assure reliable communication between all the various disciplines and trades involved in the production. In the stage manager's box, an RTS PH-88 lightweight headset is also in evidence.
WKP-4 keypanels also secure communications with the door and fire station. The technical direction, rehearsal stages and management office are also integrated into the system using WKP-4 panels.
To facilitate servicing and corrective maintenance, there is also a KP-32 keypanel in the central equipment room. The call system is implemented by four RTS UIO-256 interfaces.
www.rtsintercoms.com
.
Top Related Stories
Click here for the latest broadcast news stories.