Broadcast News
15/01/2013
UCA Graduate Nominated For Oscar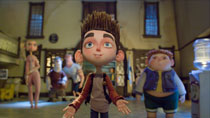 A graduate from the University for the Creative Arts (UCA) has been nominated for an Oscar.
Chris Butler, who graduated from UCA Farnham's BA (Hons) Animation degree in 1995, has been shortlisted for Best Animated Feature at the 85th Academy Awards for his film ParaNorman which he wrote and directed.
Chris said: "I'm absolutely thrilled to be nominated for an Oscar. I watched the announcement in bed in a hotel room in LA and have been giddy with excitement ever since – it's such an honour.
"I'm really proud of the film and was so happy just to get the chance to write and direct it, so having a nod from the Academy really is the icing on the cake. It's just incredible."
Stop-motion zombie comedy ParaNorman, which has also been nominated for a BAFTA, is Chris' debut feature as a writer and director.
He has worked on some of the biggest animated projects of the last decade, including Coraline and Tim Burton's The Corpse Bride, and recently designed, storyboarded and animated the short film Timer Switch for UCA Academy Award-winner Daniel Greaves.
Chris said: "Studying at Farnham was a special time for me: it was my first time away from home, my first time meeting like-minded creatives, and my first time being a grown up.
"The course was a chance to pursue an idea of a vocation and it was great to finally move on from just drawing in notebooks in my bedroom."
An Academy Award for Chris next month would be the fifth Oscar to be won by UCA alumni.
UCA Farnham graduates Suzie Templeton (2008), Michael Dudok de Wit (2000) and Daniel Greaves (1992) all won Academy Awards for Best Animated Short Film. UCA Canterbury alumnus, Arnold Schwartzman OBE RDI, won Best Documentary Feature in 1982.
BA (Hons) Animation course leader, Lesley Adams, said: "Everyone on the Animation Course is very proud of Chris' Oscar nomination. The degree at UCA Farnham has produced three Oscar-winners so far and we would love him to join that special list."
This is the second successive year that a UCA graduate has been nominated for an Oscar.
In 2012, despite winning a BAFTA for A Morning Stroll, Grant Orchard missed out on the Academy Award for Best Animated Short Film.
ParaNorman is not the only Oscar-nominated film that former UCA students have been involved with.
Three UCA graduates, including supervising animator Mark Waring, worked on Frankenweenie, while several BA (Hons) Film Production graduates were crewmembers on Skyfall and Anna Karenina.
The 85th Academy Awards take place on Sunday 24 February 2013 at the Dolby Theatre, Hollywood. They will be presented by actor and comedian Seth MacFarlane.
www.ucreative.ac.uk
Top Related Stories
Click here for the latest broadcast news stories.