Broadcast News
14/09/2012
UCA Upgrades Its Hollywood Facilities For Filmmakers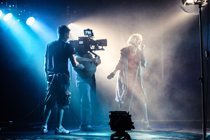 Budding Oscar winners studying at the University for the Creative Arts (UCA) at Farnham will benefit from £150,000 of new equipment when they return from their summer break.
The School of Film & Media at UCA has invested heavily in new post-production facilities for those studying Film Production, Animation, Digital Film & Screen Arts and Arts & Media.
Hollywood-standard Avid editing suites have been nearly doubled – from 23 to 43 - while the top-of-the-range finishing software, Avid Symphony (the majority featuring Nitris DX hardware), has been quadrupled, from two to eight, plus all workstations have been upgraded and now boast High Definition grading monitors.
Sarah Jeans, Head of Film & Media, said: "UCA is very proud of its long history of providing the film industry with talented graduates who have gone on to win Academy Awards and BAFTAs.
"Our industry-standard facilities at UCA are one of the major reasons that aspiring filmmakers choose to study with us.
"We hope this major investment in our post-production facilities will give our students the unique opportunity to experiment with the latest Hollywood equipment, while at the same time providing them with the skills they need to walk straight into a career in film or television."
Students will be taught how to use the equipment by experienced technical tutors, including BBC editor Mark Lelliott and former Hollywood Visual Effects editor, Simon Allmark who worked on Cloverfield and The Boy in the Striped Pyjamas.
Recent graduates have worked on major blockbusters including the upcoming James Bond film Skyfall, Tim Burton's Frankenweenie and the hugely successful Harry Potter series.
Gareth Edwards, who graduated from BA (Hons) Film Production in 1996, is directing the Hollywood remake of Godzilla for Warner Bros and Legendary Pictures. He recently returned to UCA to receive an honorary degree from the University.
In June, Harry Potter star Natalia Tena visited UCA Farnham to star in a short film being made by the University's filmmaker lecturers, fellow industry professionals, students and graduates as part of a research project.
Three alumni from UCA Farnham have won Oscars and many more have picked up BAFTAs and other international awards for their films and animations. Last year, BA (Hons) Animation graduate Grant Orchard won a BAFTA and Academy Award nomination for his animated short, A Morning Stroll.
www.ucreative.ac.uk
Top Related Stories
Click here for the latest broadcast news stories.