Broadcast News
19/12/2012
SkySQL Provides Database Services To RTÉ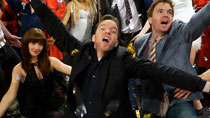 SkySQL has announced RTÉ as its latest customer.
The database solutions provider will work with RTÉ Digital, the division responsible for RTÉ's digital strategy, over the next two years. Amongst the industry-leading platforms that RTÉ Digital manages are RTÉ Player, Ireland's leading on-demand and catch-up service, and RTÉ.ie, Ireland's largest media website.
With the growing importance of databases behind online applications, businesses who hold a large amount of data need around-the-clock support to ensure the services are fully available. The popularity of the RTÉ Player and RTÉ.ie required RTÉ Digital to evaluate the database-support required for their platforms. SkySQL's in-depth experience of MySQL makes them a fitting partner for RTÉ Digital, and SkySQL's guardianship of the database has given the RTÉ Digital team more time to focus on other projects.
"Databases are critical to what we do, and partnering with a top-class provider ensures our platforms perform optimally at all times, with the support of subject-matter experts. This leaves us to concentrate on meeting our users' needs and expectations, while providing a premium customer experience. That's why we went with SkySQL, as it has a great reputation and pedigree with MySQL, and their team is available 24/7 to provide support for our databases," commented Tom Grealis, Director of Production & Operations, RTÉ Digital.
Patrik Sallner, SkySQL CEO, is delighted to be partnering with an organisation that brings entertainment to millions of people worldwide. He said: "Broadcast media today is charged with bringing accurate, up-to-date news and entertainment to the public. Information-sharing has greatly evolved in recent years from the development of websites to the boom of on-demand media services. Fully functioning databases are therefore needed and SkySQL is pleased to pass on its specialist knowledge to RTÉ."
www.skysql.com
Top Related Stories
Click here for the latest broadcast news stories.