Broadcast News
30/05/2002
ARRI X-series benefits exposed at Production Show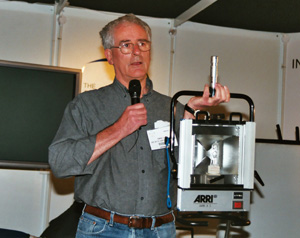 ARRI GB used the recent Production Show at the London Olympia as a platform to expose the benefits of their X-series daylight luminaires.
A full house of LD's and production staff attended the demonstration, presented by experienced television lighting director, David Lock (pictured).
With the aid of a butterfly net and chimera soft box, the talk explained the benefits of soft lighting in confined spaces.
Advocating the use of reflective rather than direct lighting, David Lock explained that the ARRI X Series — the X2 (200W), X5 (575W), X12 (1200W), 25/40 (2.5K/4K) and X60 (6K)) were the result of the Japanese requirement for a 130° flood, non-lens lamp producing a hard shape.
The demonstration included an illustrated on how much closer this could be operated to the butterfly net to produce the diffused effect, when measured alongside a conventional ARRI 575 HMI Compact, which offers a 55° spread.
ARRI's X-series is in use in the most diverse areas – in film and television productions, events, in the theatre and in photography.
Elsewhere, the Royal Opera House in Covent Garden have recently added ARRI high-grade theatre luminaires to their increase their large-format fresnels rig in two separate batches.
The new lights comprise of two fully automated 4K Compact ARRI HMI fresnels and a further three automated 5K tungsten ARRI Junior fresnels to add to the nine units supplied by White Light last year.
The Junior 5K's, in this case incorporating dichroic reflectors, are built into a moving yoke with scroller, while the ARRI Compact 4K HMI's have dimmer shutter and scroller incorporated into the moving yoke.
David Harvey, the theatre's co-lighting manager, said: "We chose the Junior 5K's because we only have 750mm of depth in our lighting battens. Furthermore, the colours we wanted to put in our scrollers needed to be looked after, and the dichroic filter will give extended life to the scrolls. Having the units motorised also cuts down on very tight rehearsal and changeover schedules, as well as giving designers more flexibility of multiple positioning during productions."
The Royal Opera House are now progressively specifying ARRI as their first choice in large format fresnels.
"We opted for ARRI this time because of its superior light output, and the fact you can put accessories — scrollers and shutters — on the front. Furthermore the theatre 4K is virtually leak-proof — there's absolutely no light spill from front or back," said David Harvey.
ARRI X,
www.arri.com
(GMcG)
Top Related Stories
Click here for the latest broadcast news stories.