Broadcast News
07/11/2012
root6 En Route From BVE North 2012 To BVE London 2013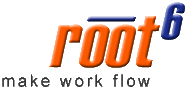 Technology developer and reseller root6 will be hitting the road across the UK and Ireland to share its expertise in file-based workflows, starting at BVE North 2012 on 13-14 November and ending at BVE at ExCeL London 2013 on 26-28 February 2013.
The roadshow will present real-world, practical demonstrations that highlight the efficiencies that can be achieved through streamlined file-based operations, from ingest to delivery and everything in between. Storage options will be examined and discussed, as well as video and audio post-production.Other important considerations such as file-based QC and accelerated, securedelivery will also be covered, and visitors will also benefit from hands-ondemos and individual discussions with workflow experts.
Complementing the roadshow, root6 is running a competition throughout its duration. Besides vouchers and discounts on leading kit, all participants will be entered into a draw to win a turnkey edit suite including an AKA desk and the latest version of Media Composer running on an HP Z820 workstation kindly donated by Jarvis Media.
Elements of the roadshow will be presented on the root6 stands at BVE North (Stand E54) and BVE at ExCeL London (Stand D12), and the full sessions will be presented at venues in Scotland, Northern and Southern Ireland and Wales.
www.root6.com/roadshow
John Harris, root6, said: "I don't think anyone has attempted anything as ambitious before - we will be giving full technical demonstrations with live equipment of all aspects of file-based workflow from ingest through editing to deliverables with the new DPP specifications. Kicking off the roadshow at BVE North is the perfect place to start, and we're looking forward to presenting a Grand Finale in London next February."
www.root6.com/roadshow
Top Related Stories
Click here for the latest broadcast news stories.