Broadcast News
30/07/2012
ADLIB supplies Sound & Visual Solutions For Pop Extravaganza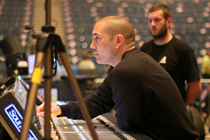 Liverpool UK based technical solutions provider ADLIB supplied sound, lighting, scenic video and crew for Radio City Live, a regular Summer pop event at Liverpool's Echo Arena, hosted by Liverpool's biggest radio station.
ADLIB's relationship with Liverpool's hit station Radio City goes back more than 20 years, when it worked on their roadshows ….. and both companies have become Liverpool music institutions in their own right.
Some of the biggest names in UK Pop were lined-up for the 2012 Radio City Live event including One Direction , Professor Green, Will Young, Labrinth, and Stooshie & Rizzle Kicks among others who performed to a capacity 10,000 crowd at on a sunny Saturday Liverpool evening .
Steve Hill and David Andrews (of EMO LTD) oversaw the event planning and management, with Andy Grey and Neil McDonald in place as production managers and Steve Pottinger stage managing.
The lighting was designed by TPi Award winning LD Ian Tomlinson with Andy Rowe as lighting crew chief , working together with Neil Holloway, Stu Wright and Jeff Bond on stage.
ADLIB's Richie Nicholson was the audio crew chief, accompanied by Sam Proctor, Chris Smethurst, Dan Ungaretti and Carlos Herreros.
Lighting & Visuals
A production lighting design was created by ADLIB's Ian Tomlinson, based around making the stage into a large and dynamic performance backdrop for the various acts. Each also needed an individual look for their three song slot.
Upstage, Tomlinson decided on a video wall, created from seven columns of ADLIB's Pixled F-30 screen hung from a rear truss. This was complemented with 4 x 10 ft upright trussing sections also clad with Pixled F-30 tiles, which were moved around the stage to suit the different acts backline / staging set ups.
The video element brought depth and lots of eye-candy to the performance space and the F-30 was fed with content stored on a Catalyst media server.
For lighting, five trusses were installed
The upstage one was sub-hung with the video columns. About 12 ft downstage of this was a drapes truss, fitted with a tab-tracked gauze. This could be closed to facilitate set-ups going on behind and also to create a different environment with lighting and video shining through it.
In front of this was a mid truss, and beneath that, both stage left & right, two staggered 'drop' trusses' for a pros arch effect.
Downstage was a regular front truss combined with a cable bridge.
Onto these they rigged a mixture of Martin Professional MAC 700 Profiles, MAC 301 LED washes and Clay Paky Sharpy moving lights – around 50 in total.
There was also a selection of 4-lite blinders and PARs.
On the floor were another 6 x Sharpies and 12 x loose PARs, all in the footlights positions along the front of stage, and two FOH followspots were also used.
Ian Tomlinson ran the lighting from a Road Hog Full Boar console and Andy Rowe operated the Catalyst system and video using a grandMA2 lite console.
Sound
ADLIB's Richie Nicholson and Sam Proctor took care of FOH System and desk duties.
An L-Acoustics K1 system was specified – with 14 x K1 speakers a-side for the main hangs and 10 x K1 for the side hangs.
Ground-stacked were 10 x SB28 Subs per side, with 4 x L-Acoustics ARCs II boxes on top as infills, alongside L-Acoustics Kara speakers for front-fills.
Nicholson remarks on the excellent low end control of the K1 for this type of event, which allowed them to keep up the expected volume levels for the young audience without hammering the system or anyone's ears!
All of the L-Acoustics elements were powered by L-Acoustics LA8 amps. The system was time-aligned and controlled via the LA Network Manager2, which Nicholson comments is "Very cool".
The main EQ was then fine-tuned utilising a wireless tablet and combination of Lake LM26 and LM44 processors in one of ADLIB's standard control racks
The FOH console was a Soundcraft Vi6, this was used for all the bands, with Nicholson using an additional Vi1 desk for the presenters, video stings and play-ins.
Covering monitors were Chris Smethurst and Dan Ungaretti running a Yamaha PM5D console, while Carlos Herreros co-ordinated everyone's playback requirements.
Eight sets of Sennheiser 2000 Series IEMs were used together with ADLIB MP3 wedges powered by Labgruppen PLM amps.
Account Manager Phil Kielty comments, "To work alongside Richard Maddock and the Radio City team is a real joy, as I used to go along to their roadshows as a kid! They stage Liverpool's biggest pop event and make it look so effortless. Steve Hill and David Andrews head up a superb team and there is a great atmosphere behind the scenes. A stunning line-up from One Direction to Professor Green saw a three hour show that people will remember for a long time."
Ends.
www.adlibsolutions.co.uk
Top Related Stories
Click here for the latest broadcast news stories.