Broadcast News
03/07/2012
Soho Editors Lead Creative Media Training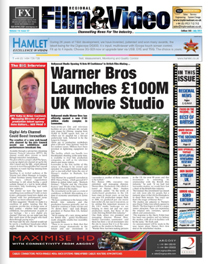 This month Regional Film and Video talks to Brian Cantwell, Managing Director of Soho Editors.
The company has been an integral part of film and television post production for over ten years. The talent on their books creates household-name programming and features 24 hours a day, 365 days a year, in countries around the globe.
The post-production sector seems to be an area inundated with new developments and software in particular the move to tapeless media, must be difficult to keep up?
Over the last 15 years the speed of technology and software development has accelerated as more players have got involved, with everyone leapfrogging each other to offer the next hot product that will solve all your problems. At Soho Editors we recognised very early on the pace of change was going to create skills gaps and the training options available 15 years ago were quite limited and hugely expensive, no wonder when a single workstation could cost upwards of half million! So we made strong relationships with all the manufacturers to provide affordable training, many of these relationships still exist today, and new ones have been added to reflect the changing face of the industry. At Soho Editors we work with some of the best creative and technical talent available to ensure that our training programs are cutting edge and relevant to the industry, the key is to identifying and anticipating the needs of industry and staying ahead of the curve.
How important is it to be an Accredited Training Centre, having all your trainers fully certified must carry a lot of expense?
Manufacturer accreditation has always been a strong part of Soho Editors profile, by working very closely and with the full support of the manufacturers we have been able to deliver consistent quality and innovations. Accreditation has become more and more important over the years both for us and for our clients. With the democratisation of the industry it has never been easier for someone to set up in post, accreditation is one bench mark that is universally industry recognised and employers are looking for these on applicants CV's as a big tick in the box. Keeping our trainers (all 10 of them) certified can be costly but we see it as a necessary expense, even if sometimes it seems all the manufacturers have colluded in releasing updates at the same time, then the biggest headache is finding enough free time for the trainers to study whilst still delivering courses.
Soho Editors have had successful partnerships the latest being VET and Alchemea College at BVE. Do you believe more organisations should work together on specific projects?
To be honest most of our partnerships are usually with none competing organisations, however the example of BVE showed how traditional competitors can work together to deliver a first class experience. We have always been keen to work with the best, so where practical we bring in the right partner and this won't change. What I think is more interesting is the way we have over the years been able to collaborate with various competing manufacturers, BVE is another example of this, whilst providing Avid training in one corner of the hall we are delivering seminars on Final Cut Pro X in another corner.
Having visiting you at BVE, it was difficult to get close with the crowds, looked like a major success. The theme "joined up workflow" certainly captured visitors attention, how did it work for you and will you do it again?
To be honest I didn't know what to expect at BVE, it's been a few years since we did anything like this, but the previous year I was impressed with the level of interest and the quality of the people attending, so I thought why not! We were all slightly taken aback by the level of interest at the Show, every session was full to overflowing and it was great to meet so many industry people clearly excited by the future. Our aim at BVE was to dispel a lot of the myths that have been doing the rounds since the launch of FCP X in June 2011 and showcase DaVinci Resolve in a professional workflow, the feedback was very positive and it turned out to be our most successful ever event in terms of numbers, we will definitely be back in 2013 at Excel.
The industry has moved rapidly to file based workflows over the last few years, but not everyone has made the leap just yet, what would be your advice to these people?
The last few years has seen a gradual shift to file based workflows, but not nearly as rapid as some would think, a recent survey suggested that tape was still the second most popular format for producers. The pace of this change has accelerated over the last couple of years, its almost impossible to buy a tape based camera and we have been reduced to occasionally searching E-Bay for old tape cameras so we can still teach how to log and capture, as opposed to ingest.
My advice to anyone that hasn't yet made the change is get on board! There are huge benefits to file based workflows that go much deeper than just how to capture media; with Metadata and digital asset management becoming increasingly important file based media will be the only way in town soon!
We here from time to time major game changers in the industry would you put Blackmagic Design's DaVinci Resolve in this bracket?
Every now and then someone does something that is so different from the norm that everyone sits up and takes notice. The most recent example of this is Blackmagic Designs DaVinci Resolve, this product had an excellent reputation as a high end grading tool, what BMD have done is take something that used to cost hundreds of thousands and made it FREE, well at least Resolve Lite is free, but even the full version only costs £700. They then did it again this year at NAB by announcing as New Cinema camera for less than £2,000. In late 2011 we were appointed as BMD's first Authorised training partner for Resolve and we have seen demand for training grow, I would say that Blackmagic Design are one to watch, I am sure they have a few more surprises in store.
Exciting times in London this year with the Olympics, will the UK as a whole benefit?
We are all very excited about the Olympics, even if it could cause us a few transport problems during the games with the Olympic VIP lanes on either side of us, one of the few disadvantages of being in the middle of Soho. Soho Editors got involved in the games even before the last Olympics' took place in Beijing on the board of the Council for Training and Development for 2012, its very satisfying seeing the rewards of that work this summer. I think that one of the main benefits to Corporation UK is the worldwide attention it brings, we have an enviable reputation abroad when it comes to TV and film, you only have to visit New York, Mumbai or Sydney to see this in action, I am sure we will put on one hell of a show, which can only enhance our reputation.
What are your plans for the next 12 months?
The last 12 months has seen us add several new manufactures training programs including Blackmagic Design, Avid and Autodesk and I expect the next 12 months to be much the same. We are constantly improving the courses, technology and talent we are able to offer, and we will continue to do this. We are in quite advanced discussions with a number of interested parties regarding opening Soho Editors in new locations, both home and abroad, so I expect the rest of 2012 and 2013 to be a very exciting time for us all at Soho Editors.
See
www.4rfv.co.uk/rfvonline
Top Related Stories
Click here for the latest broadcast news stories.