Broadcast News
11/04/2012
The Minefield Of Camera Accessories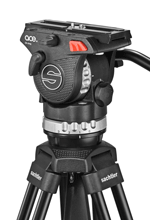 When it comes to camera accessories there are just hundreds of 'add ons' that claim to make the cameraman's job a little easier. From tripods and grips to what to keep all of it in it, let us be honest it's a bit of a minefield. This month Regional Film and Video has given a run down on some of the companies to look at when it comes to accessories and what is hot in the accessories world. Coming just ahead of NAB, which takes place in mid April, we hope this gives you the perfect chance to keep an eye out for some of the accessories mentioned.
The Camera Bag And Case
When you've spent a small fortune on a camera, lenses and other kit, you want to keep your investment protected. A decent camera bag and case is essential - not just for carrying your gear but to protect it from bad weather, knocks, bumps and pilfering fingers. And, of course, 'they' say there is a bag for every camera be it HD DV or DSLR -but then why when it comes to the moment of purchase is it so damn confusing?
I feel the main reason, quite simply and obviously, is there are hundreds of bags and cases on the market and you're left wondering who is telling the truth about their 'wonder bag'. Unfortunately it would be nearly impossible to try and test every bag on market but fortunately your intrepid editor has researched some of the industry's top suppliers for a little direction at least…
Petrol Bags: 'Seven Layers Of Protection'
Having trudged through numerous specifications it is safe for me to say my starting point for a bag would be Petrol Bags. They have created a fool proof line of bags for all types of cameras and other production equipment. Their three distinctive lines include 'Black Deca','DSLR in Motion' which was specially designed to meet the needs of the DSLR camera user and 'Cambio' which are perfect for the cameraman who likes to travel light. Which one to choose will still be a bit of a challenge, I won't lie, as they have hundreds of different versions to choose from but which ever one you choose you can be guaranteed that it will be quality. One of my favourite things about petrol bags is the seven layers of protection. The company have bonded seven specifically selected materials together to form a certain strength and durability and of course the fact that practicality is not the only focus- they also look good too.
When it comes to cases there are a few options in my opinion. Peli Cases who for more than 30 years have built a reputation for manufacturing the toughest 'Protector Cases' in the world. Their high quality, protective cases claim to offer safe transportation for fragile or expensive equipment. It is their guarantee that with them you get watertight – dustproof – crushproof – corrosion-proof – buoyant –rugged -reliable – user-friendly cases. To top it all off they offer a lifetime guarantee. British film director, Marcus Dillistone said: "When a member of crew turns up with their gear in a Peli case you know that they're serious and that they care about what they do."
Also worth a look are CF cases, who represent Explorer Cases, a range that has just expanded to take in 24 different size options.
All The Bits N' Pieces
Ok then there are all the other bits designed to make some of the most testing tasks easier; and there are tons, literally, so I have picked out only a few of my most recent favourites and some companies worth a look.
Firstly, let me mention Sachtler, who have released the new Ace tripod system, which will be on show at NAB. They are set to roll out a tripod that will give an authentic broadcast feel to videographers. Meanwhile their other camera support products including the Video 18 S1 and Video 20 S1 ENG/EFP fluid heads and the artemis Cine HD Pro modular camera stabilizer system are defiantly worth a look.
With Octicia Professional, it is probably safe to say that if you can't find a gadget that you like on their books you probably won't find one. Most recently Octica revealed that it is ready to support Canon's new camera with a range of professional accessories needed to make the optimum shooting kit. These include the industry standard EVFs from Cineroid; Matteboxes, Follow-Focus and Support Rigs from Chrosziel; Microphones from Que Audio & lightweight film fluidheads & tripods from Cartoni.
Octica however is not the only company keen to create accessories for the Canon C300 ARRI has offered a renowned Pro Accessories line to support it. Working closely with Canon over the past couple of months, ARRI has developed a new adapter plate (Adapter Plate C300, product K2.66173.0) that allows existing accessories to outfit this new camera.
Vinten are also set to unveil new accessories at NAB - the FH-145 and FHR-145 pan and tilt heads will be shown alongside the recently released FHR-35. Well worth a look these new heads are built on the successful performance of Vinten Radamec's FH-100 and FH-120 models. They will provide users with a simpler set-up and installation, as well as an improved pan and tilt resolution of over one million counts per 360 degrees, to give broadcasters the ultimate smooth image in both virtual and real worlds.
And finally Tiffen, manufacturer of photographic filters, lens accessories, software, and camera accessories are set to unveil a number of new solutions to visitors at NAB 2012. These will include optical filters, Steadicam, Lowel-Light, Davis & Sanford Tripods, Domke Bags, and Tiffen Dfx digital filters.
Get a Grip
Oh yes then there are the big accessories …grips, cranes, jibs, dollies-whatever it takes to get that shot.
A good starting place is probably with Alpha Grip, based in Pinewood Studios, in the heart of the British Film Industry. The company is run by Grip Specialists working for Grips, Crew and Production. Most recently they released the Octopussy 1210 TWIN, 1412 TWIN and 1715 TWIN- the best options for two-man operations where overhead jobs need to be carried out simultaneously. But also on their books are numerous cranes, dollies, jibs and scaffolding. Chapman Grip, Bradley Grip and Polecam also have a good stock list for these kinds of accessories and very good reputations within the industry.
The Final Word
Well as I said the world of camera accessories is a minefield and in the end it proved impossible to mention every accessory that has caught my eye over the last few weeks and months. Hopefully however with NAB just around the corner and a chance to see a lot of the industry's leading accessories in the flesh this has given some food for thought and few names to check out.
Check Out Our Online Paper- Regional Film and Video- For More Features
(LB)
Top Related Stories
Click here for the latest broadcast news stories.