Broadcast News
22/02/2018
New PAGlink Power Products Keep Accessories Powered-up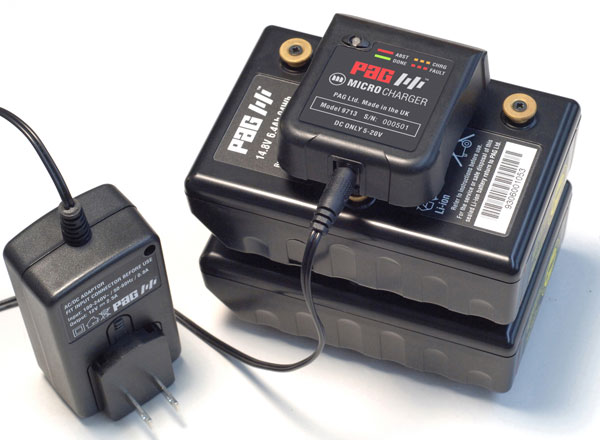 PAG has announced that it will bring a complement of new lightweight and compact accessories for its PAGlink battery systems to NAB 2018. The Company will highlight devices on Booth #C7917 that power multiple accessories, enable linked charging from an ultra-mini form-factor, and allow users to easily access battery data.
PAGlink, PAG's well-established battery system is designed to power a broad range of cameras and multiple accessories for both broadcast and cinema camera applications. Available in Gold Mount and V-Mount formats, PAGlink comprises compact, lightweight, intelligent linking batteries, available in 94Wh or 150Wh capacities. When linked, the battery capacities are combined and discharge together to allow a current draw of 12A. Sharing the current demand prolongs overall battery life and provides a better return on investment. 94Wh Paglink batteries are guaranteed for 3 years.
PAGlink PowerHub
PAG's PAGlink PowerHub is a lightweight, ultra-compact and user-configurable camera accessory power device that eliminates the need to build D-Taps into a battery. Instead, the unit provides the outputs required to power camera set-ups that feature multiple 12V accessories such as a camera light, monitor, or audio and transmission devices.
Designed for use between two PAGlink Gold Mount batteries, while only increasing the depth of the battery stack by12mm, PowerHub maintains hot-swap capability while keeping accessories powered-up. Four D-Tap connectors are supplied as standard, and a USB connector (5V, 1A) is included to power smartphones or similar low-voltage devices. These connectors are interchangeable with Lemo (2-pin), Hirose (4 pin) or 2.1mm (PP90) connectors, available as options, and can be used in any of the five ports. Connectors can be configured in any combination to meet any user requirement.
PAGlink Micro Charger
The PAGlink Micro Charger, the world's smallest (2.8" x 2.5" x 1.3"), single position multi-battery charging kit, serves as the ideal light-traveling linked-charging companion for PAGlink batteries.
Building on the success of PAG's unique linked battery charging feature, the low-cost, ultra-compact Micro Charger clips onto the contacts of one battery and links to another three for simultaneous charging of up to four units. The Micro Charger can be powered from any AC outlet worldwide via a PSU adapter, a 12V vehicle battery, or a USB charger (2A). The PSU and DC power cables are included in the package.
PAG America's Sales Director Bob Carr claims, "It's the world's smallest and most versatile broadcast battery charging kit".
PAGlink Battery Reader
Managing PAGlink or Anton/Bauer Gold Mount batteries efficiently by using data stored in their processor can be easily achieved using the new PAG Battery Reader. The Reader clips onto the battery contacts and displays the number of cycles, date of manufacture, capacity in Ah, and more. It also initiates the battery sleep function.
All featured products are currently available and shipping.
paguk.com
Top Related Stories
Click here for the latest broadcast news stories.