Broadcast News
08/11/2010
Bryant Broadcast Release New Catalogue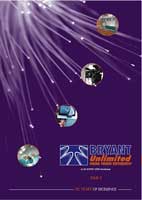 The Bryant Broadcast Catalogue came into existence in 1980 and in the ensuing 30 years has become one of the most used catalogues on the broadcast market.
However, not wishing to rest on their laurels, after 30 years they've changed their name to Bryant Unlimited in order to reflect their ability as a manufacturer to evolve and expand; to not just be the system integrator's best friend when it comes to the 3 I's of signal management (Interconnection, Interface and Installation), but also to take the lead in supply and repair of fibre optic camera cables for broadcasters, equipment for AV installations and supplies to medical, educational and military markets throughout the world.
As a UK ISO9000 manufacturer, they offer solution provision, taking their clients ideas and helping them design and produce product they want. Bryant Unlimited is now a leading manufacturer of optical fibre high-end A/V applications in the UK. Building on a solid history of manufacturing both multi-conductor and triad type camera cables, Bryant Umlimited has invested heavily in the equipment and expertise necessary to assist engineers in using fibre to transport HD, 3Gb/s and Gigabit Ethernet over fibre optic media. With an increasing range of optical cable assemblies, break-out cables, hybrid fibre break-out/patching panels, wall boxes, cable pullers and components, special fibre handling cable reels, etc. Bryant Unlimited aim to provide the complete optical interconnect solution.
Their latest free issue 9 catalogue is at the printers now and can be with you just as soon as you request it.
Over 100 new product lines are showcased in this newly updated catalogue, with highlights including:
Jackfields, Patchbays and termination panels
Audio connectors, cable assemblies and stage boxes
Camera, video and a/v connectors
Cables, wire and cable accessories and drums
Power distribution, racks and metalwork
Signal processing, monitoring and test equipment
Data networking products
Audio/Video connectivity products
In addition to the printed catalogue, there are further new products online at:
www.bryant-unlimited.co.uk
(KMcA)
Top Related Stories
Click here for the latest broadcast news stories.