Produce Motion graphics for title sequences, programming content, commercials, and re-brands. Splice offers clients a relaxed yet professional service operating 15 hrs a day 7 days a week.
Motion Graphics Companies
In Devon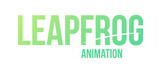 About us It all started sometime in the mid 70s when the founder of Leapfrog Animation, Mark Peberdy, was a kid making flick books and simple thaumatropes (bird in a cage...