Broadcast News
09/09/2002
LaCie ships F40 CD-RW with 40x USB 2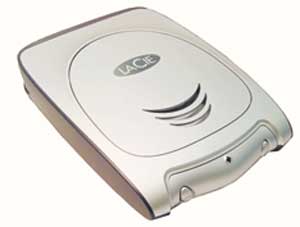 LaCie has announced the shipping of their new F40 USB 2 CD-RW, a 40x12x48x drive that fuses speed and convenience in an attractive, compact design.
Equipped with USB 2 for plug and play operation and blazing speeds, the 40x drive writes a CD in less than three minutes. To ensure reliable recording, even at high speeds, the LaCie F40 features buffer underrun protection capability.
In addition to writing to CD-Rs at 40x and rewriting CD-RWs at 12x, the drive delivers an impressive 48x playback that lets the user rip a 700 MB audio CDs in less than three minutes.
"Our new LaCie F40 is certainly the industry's fastest CD-RW drive in such a compact format," said George Leptos, UK Branch Manager.
"At only £119, the LaCie F40 is an affordable solution for storing digital music or video content on low-cost CD-Rs. In addition, its compact design saves space on the desktop."
Delivered with the award winning Roxio software Easy CD Creator, the LaCie F40 CD-RW is an ideal companion for any USB-equipped laptop or desktop PC.
With USB 2 connectivity, users can connect, remove or swap the drive without having to restart the computer. The USB 2 drive is also fully compliant and backward compatible with the industry-standard USB 1.1. As it can be plugged into any USB-equipped computer the LaCie F40 can easily be shared between computers.
The LaCie F40 supports track-at-once, multi-session, session-at-once, fixed and variable packet writing methods and can be used to burn custom CDs such as audio, MP3 or video compilations.
The LaCie F40 40x12x48x CD-RW comes with a USB 2.0 cable, Roxio's Easy CD Creator for Windows 98SE, 2000, Me and XP, a universal power supply, a user's manual, a quick install guide, one CD-R disc and a two-year warranty. Macinstosh users can plug the drive into their USB 1.1 port and use it with most MacOS recording software (not supplied).
LaCie also offers a complete range of competitively priced CD-R and CD-RW media, including 40x-certified CD-R discs.
LaCie,
www.lacie.co.uk
Top Related Stories
Click here for the latest broadcast news stories.