Broadcast News
08/05/2009
Cash Prize Offered For Suncare Film 'Short'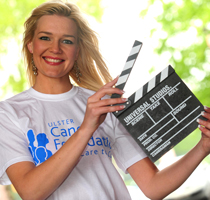 A call has gone out for all budding young filmmakers to use their creative skills to back a new 'Care in the Sun' campaign.
Aimed at people in Northern Ireland, it will be launched with the help of Judith Wilson, the current Miss Northern Ireland, (pictured).
She was lending a hand to the Ulster Cancer Foundation (UCF) and its call for entrants to produce a 60-second film to mark the 2009 campaign to help beat the scouge of skin cancer.
The film competition will be formally launched by UCF and the Northern Ireland Melanoma Strategy Implementation Group (NIMSIG) at next week's - normally sunny - Royal Ulster Agricultural Show at Balmoral.
Sandra Gordon, Melanoma Strategy Co-ordinator with UCF said: "We are asking young people to create a film around the topic, 'Skin cancer is a burning issue' which links the danger of sunburn from the sun or from a sunbed to the development of skin damage and skin cancer.
"We know it's difficult to squeeze any film idea into just 60 seconds, but that is all part of the challenge!
"We believe this is a great way to inspire young people to think about skin cancer issues while offering opportunities for those who hope to make it big in the movie world," she said, noting that skin cancer is a very real issue in Northern Ireland with approximately 2,500 skin cancers diagnosed here each year.
Research indicates that over-exposure to sunlight in youth is a significant factor contributing to the development of skin cancer in later life.
The overall winner of the Care in the Sun film competition will receive a cash prize of £500 with £150 each for the under 18 winner, the people's choice winner and the media student winner.
Closing date for competition entries is Tuesday 30th June and the competition is open to young people between the ages of 15 and 25 years of age, on or before 31st August 2009.
Budding directors are being urged to call in at the UCF stand, Health & Lifestyle Zone at the Balmoral Show for further information.
All eligible entries will be displayed on the Care in the Sun's YouTube channel www.YouTube.com/CareintheSun and all winning entries will be displayed on the Care in the Sun website:
www.CareintheSun.org
(BMcC/JM)
Top Related Stories
Click here for the latest broadcast news stories.