Broadcast News
10/11/2009
Sun Care 'Film Awards' Announced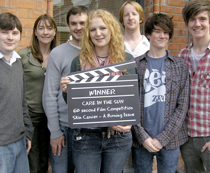 The winners of an innovative regional competition to promote taking care in the sun to lessen the risk of cancer have been revealed.
The Ulster Cancer Foundation (UCF) has announced the winners of their 60 second Care in the Sun film competition.
Overall winners - and coming top in the under-15 category - were Jonny Bates and Ross McConaghy from Bangor.
Tuathan McAughey from Belfast scooped the top award in the People's Choice category and Matthew Simpson and Jayne Edwards from Limavady won the Media Student category.
Sandra Gordon, Melanoma Strategy Co-ordinator with UCF said: "We were amazed at the quality, content and sheer amount of effort involved in compiling the films.
"It's difficult to squeeze any film idea into just 60 seconds but that was part of the challenge, and our winners did a fantastic job," she enthused.
"It was a difficult task to choose the winning entries and we were grateful for the help of our external judge, Andy McCartney from SpeechBubble," she continued.
"The film competition has been a great way to inspire young people to think about skin cancer issues while offering opportunities for those who hope to make it big in the movie world.
"Skin cancer is a very real issue in Northern Ireland with approximately 2,500 skin cancers diagnosed here each year.
"Since the 1980s we have seen almost a 300% increase in the incidence of malignant melanoma, the most aggressive form of skin cancer and research indicates that over-exposure to sunlight in youth is a significant factor contributing to the development of skin cancer in later life."
Pictured above, from left are: Tuathan McAughey and Sandra Gordon from the Ulster Cancer Foundation, Matthew Simpson and Jayne Edwards, the judge Andy McCartney from SpeechBubble and Ross McConagy and Jonny Bates, overall winners and winners of the under 15 category.
The competition was funded by the Department of Health and run by UCF on behalf of the NI Melanoma Strategy Implementation Group.
All winning entries are displayed on the Care in the Sun's YouTube channel
www.YouTube.com/CareintheSun
(BMcC/GK)
Top Related Stories
Click here for the latest broadcast news stories.