Broadcast News
29/01/2009
Gladiators Take Extreme Sport To New Heights With Camera Corps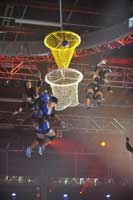 Camera Corps has raised the extreme-sports bar by equipping Gladiators contestants with body-worn cameras and solid-state video recorders to capture their manoeuvres while playing Rocket Ball 30 feet above ground level.
Four Camera Corps helmet-cameras and personal video recorders were supplied to Shine for use in the latest series of 'Gladiators', produced early this year at Stage C almost opposite Camera Corps' Shepperton Studios headquarters.
Nick Badham of the London-based production company Shine, said: "Camera Corps worked with us on last summer's Gladiators series for Sky 1. A new feature introduced in the latest series, Rocket Ball, gives contestants the opportunity to play what amounts to basketball on steroids, launching themselves into the air on a motorised line attached to their harness.
"They then try and pitch the ball into baskets defended by other players. Solid-state video capture was ideal as it is far more resistant than video tape against the bumps, thumps and fast acceleration to which sports contestants subject themselves. Individual Rocket Ball games in Gladiator last 90 seconds and were captured to Quicktime video files which were later forwarded to the programme editors."
Laurie Frost, Camera Corps' Managing Director, added: "After researching the various available recorders, we opted for the Fast Forward Video Mini DV Pro. This delivers excellent signal quality onto single or dual Compact Flash cards yet is small enough to fit into a padded pouch which each attacker or defender can wear on a waist-belt.
"File-based capture to RAM or disc has one drawback compared with tape: the recorder has to terminate each sequence before it is safely in the bag. 'Gladiators' is a very tough environment both for the contestants and the equipment and a few files disappeared down a digital black hole, probably due to momentary discontinuity in the power supply. The results overall were very gratifying and prove the benefits of solid-state video capture. Each recorder was fed by a miniature camera worn as part of a safety helmet. We also supplied two of our own-design HD MiniZoom robotic cameras. These have integral 10 times optical zoom providing wide-angle or close-up shots from above the baskets."
'Gladiators' is transmitted Sundays at 6pm on Sky1 and Sky1 HD. The series achieved international success during the 1990s and early 200s in Australia, Britain, Denmark, Finland, Germany, Nigeria, Russia, South Africa, Sweden and the USA.
The show was revived in 2008 in Australia, Britain and the USA. Athletic members of the public battle against the show's own Gladiators (often semi-professional or former athletes) to claim points in several events that require speed, strength and skill. A children's derivative of the concept, Gladiators 2000, was also made in the USA.
Camera Corps has achieved a pre-eminent reputation for its ability to acquire exciting and unusual television content from exceptionally challenging environments. Its ever-growing arsenal includes high-level cranes, motorised tracking cameras, underwater cameras, bullseye-mounted archery target cameras and fire-proofed high temperature cameras. The Camera Corps team expands during large-scale events from eight full-time staff based at Shepperton Studios to as many as 200 specialists, including highly-skilled rock climbers able to establish camera positions in almost any location.
Further information is available at:
www.cameracorps.co.uk
.
(KMcA/BMcC)
Top Related Stories
Click here for the latest broadcast news stories.