Broadcast News
16/07/2013
Camera Corps Partners With NEP Visions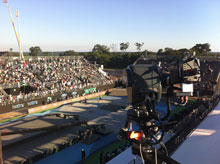 Camera Corps has announced news of its partnership this year with Pittsburgh-based outside broadcast production company NEP Visions.
Camera Corps provided support equipment for a sponsored television games series shot during April, May and June in Europe and South America.
"The entire Camera Corp team were great," comments David O'Carroll, Technical Projects Manager, NEP Visions.
"From our earliest conversations they provided the experience, flexibility and support necessary to help us achieve the best possible coverage for ESPN."
"We were active at a total of three events in Brazil, Germany and Spain," adds Camera Corps' Senior Technician David Sisson.
"Four Camera Corps technicians attended each event, working with David O'Carroll and his colleagues to capture dynamic close-up images of the action as well as long-range wide-angle views. Equipment used at each event included Camera Corps Q-Ball remotely controlled pan/tilt/zoom/focus cameras, Camera Corps VHR pan/tilt heads, point-of-view cameras and long-range optical fibre links. The Q-Ball heads were operated as com-cams, providing images of the presenters as they described the action.
"Each VHR head was fitted with a Panasonic AK-HC1500G camera, allowing precise control of pan, tilt, zoom and focus so that participants could be tracked over a wide range of remote locations from the main control suite. Hitachi HV-HD30 and Iconix HD-RH1 cameras were used for the wide-angle shots. All the cameras were operated from Camera Corps PTZF joysticks which provide the tactile feedback essential when covering fast-moving live content.
"The entire production was captured in 720p 59.94 frames per second high definition, many of the cameras being securely connected back to base via Camera Corps SIMPLY SMPTE electro-optical cable links which can be operated up to 3 miles between camera head and control room. Other cameras were connected via Camera Corps BC550 single-mode fibre links.
"Everything worked well at all three venues, including outdoor cameras operating under protective rain-covers. The resultant footage included some of the most exciting events ever captured during outside broadcast productions and really was nothing short of extreme."
www.cameracorps.co.uk
(IT/CD)
Top Related Stories
Click here for the latest broadcast news stories.