Broadcast News
30/09/2008
Rycote Introduce InVision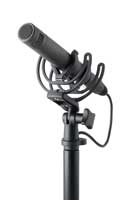 The major launch for microphone windshield manufacturer Rycote in 2008 has been the complete range of InVision microphone suspensions, which dispense with the elasticated cradles traditionally used to reduce microphone handling noise and were seen at the Rycote stand during this year's IBC show, Amsterdam.
Instead, the eight-strong InVision range is based around flexible but virtually unbreakable W-shaped clips, known as Lyres, and they are available in several different sizes, which provide a more efficient isolation from unwanted vibrations than traditional suspensions.
Lyres of varing diameters are then combined in the eight different models in the InVision range to provide suspension systems suitable for a wide range of microphones of different diameters and from different manufacturers.
Models INV-1 to INV-3 are designed for smaller-bodied microphones in static use, while models INV 4-8 are designed for static and boom-mounted applications and fit microphones ranging from 8mm to 30mm in diameter.
INV-7 is designed for shockmounting both fixed and boom pole-mounted microphones and can be used with a variety of microphones from 19 to 25mm in diameter, including the Schoeps CMIT-5U, Audio-Technica AT4073a, Sennheiser ME66/K6, Neumann KMR81i, DPA 4017, and Beyerdynamic MCE86.
Further information is available at:
www.rycote.com
.
(KMcA)
Top Related Stories
Click here for the latest broadcast news stories.