Broadcast News
30/09/2008
Events, Formats And Factual To Debut From Zeal Enterainment At MIPCOM 2008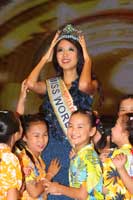 Zeal Entertainment, a leading distributor and part of the Digital Rights Group (DRG), will arrive at MIPCOM 2008 with a wide range of titles available to international buyers including event specials, classic game shows, documentary specials, taboo breaking factual entertainment formats and inspiring social experiments.
Official distributor of the 'Miss World Festival' for the fourth year running, Zeal Enterainment will be marketing the 2008 Festival at MIPCOM. The extravagant live final takes place in South Africa on December 13 and will feature spectacular surprises and, of course, a dazzling array of the world's most beautiful women. The 2007 Festival was screened in more than 100 territories and deals for the year's Festival are expected to be confirmed shortly.
The classic game show format '15-1' will be relaunched at the market. This simple yet brilliant format sees fifteen contestants starting with three lives - if they get a question wrong they lose a life and if they lose all three lives they are out of the game, as fifteen contestants are gradually whittled down to one winner.
'15-1' was previously a long running ratings success around the world and broadcasters are tapping into this tried and tested formula with SVT Sweden commissioning 100 hours in recent weeks.
Fascinating documentary 'Martin Clunes: A Man and His Dogs' from ITV Productions and Buffalo Pictures for ITV1, sees the 'Men Behaving Badly' and 'Doc Martin' star and life-long dog lover setting off on an epic, dramatic and sometimes surreal adventure to discover how close the domestic dog is to its ancestor, the wild wolf.
Martin travels to Africa, Australia and America to find the surviving wild ancestors of pampered pets like his own beloved dogs, Mary, Tina and Arthur. He trails the dog's ancient canine cousin, the endangered African Painted Dog in Tanzania, watches wild dingoes frolicking in the surf on Fraser Island and observes wolves gorging on a kill in a winter-gripped Yellowstone. 'Martin Clunes: A Man and His Dogs' aired in the UK on ITV1 and won its slot with a 24.7% share and 5.7 million viewers.
'Missing Top Model' is a factual entertainmnent series and format also from Love Productions, which explores the biggest taboo in modelling... the lack of disabled models.
Eight disabled girls who have been rejected by the mainstream modelling industry complete to win a photo shoot with a world-renowned photographer to feature in a national style magazine.
Mentored and guided by an industry professional, the girls' rollercoaster ride starts with a nerve-wracking meeting with the judges, the industry experts who will decide their fate. But, ultimately, is the modelling world ready to open its books to one of them? Recently aired in the UK on BBC2, the show drove ratings up by 25% in its first episode and was the fifth most downloaded programme on BBC iPlayer.
'Young Mum's Mansion' returns with a second series for launch at MIPCOM following the huge success of the first series, which more than doubled the UK's BBC Three slot average.
From Love Productions, the makers of the acclaimed series 'The Baby Borrowers', this inspiring radical social experiment follows a group of young single mums and their children as they are given the opportunity to live together, share their experiences, pool their resources and see whether communal living, and the benefits it brings, can help them change their lives for the better.
In the second series, the mansion will open its doors to single dads too, offering a new dimension and promising radically different storylines, as common preconceptions are tackled and the real issues single parents face are explored.
Zeal Entertainment will be located on stand: LR3-22 during MIPCOM 2008.
Further information is available at:
www.zealentertainment.co.uk
.
(KMcA)
Top Related Stories
Click here for the latest broadcast news stories.