Broadcast News
05/08/2008
Award-winning Directing Talent Signs To Th1ng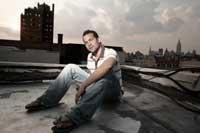 Yoav Segal, one of the UK's brightest new directors and his producer, former Head of TV at Grey Advertising, Amanda Lowit, have joined animation and mixed media production company th1ng.
Yoav Segal is best known for his most recent short film 'The Battle of Cable Street', an award-winning mixed media narrative about the British fight against fascism seen through the eyes of a young Jewish boy. In the film, he uses cinematic live action, rotoscoping and frame-by-frame painted animation to transport the characters into the boy's sketchbook.
Yoav brings strong credentials in motion graphics, design, editing, art direction and music to th1ng, as well as experience in many areas of film production. He has previously edited, storyboarded, art directed and directed projects for many leading blue chip clients and NGOs in Europe and Africa.
His work is characterised by a great sense of sensitivity when dealing with difficult human subjects. Inspired particularly by his grandfather, Yoav frequently draws on questions of race and prejudice. In his latest non-commercial project, a historical follow-up film to the 'The Battle of Cable Street', Yoav is directing a story about a group of international volunteers fighting Franco in Spain.
Yoav has teamed up at th1ng with the former Head of TV at Grey Advertising, Amanda Lowit. Amanda is a well-known producer in the industry having worked on many blue chip accounts, including: British Airways, Dulux, Mars, Lee Jeans, Cadbury, the award-winning Allied Dunbar, "There may be trouble ahead" campaign and, most recently, the award-winning WKD campaign.
Commenting on his appointment, Yoav Segal, said: "th1ng is one of those few experienced, yet young studios where the sky is the limit. With Amanda and the th1ng team, I have a unique opportunity to push the boundaries of my work in animation, live action, idents and title sequences. th1ng has some incredible directors and I am really proud to be part of the team. Working with Amanda and applying her knowledge of the commercials industry is an added bonus."
Amanda Lowit added: "Yoav has genuine all-round talent, born from his background in art direction, illustration, animation, editing and music. His concept work is outstanding and already this has led us to win our first two commercials in a very short space of time. First for Lil-lets, which breaks nationally now, and also for an exciting live action piece for a TV commercial that is currently in production.
"Having helped launch many new directors' careers I have no doubt that Yoav has the talent and attitude it takes to go to the very top of this industry. And having worked with Dominic at th1ng on many occasions, I am impressed by his ability to nurture new director's talent. th1ng is undoubtedly the right place to ensure Yoav's success and we are delighted to join them as a director and producer team."
Further information is available at:
www.th1ng.com
.
(KMcA/JM)
Top Related Stories
Click here for the latest broadcast news stories.