Broadcast News
07/02/2008
Kung 'Phoo Action' For Rushes Post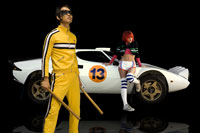 It's 2012 and London is in the villainous clutches of mutant criminals. What the nation needs is a hero…or heroes. Step forward unruly teenage anarchist Whitey Action (played by Jamie Winstone, daughter of actor Ray) and Terry Phoo (ER's Eddie Shin) a luckless martial arts cop, who team up as the unlikely but effective crime-fighting duo.
Based on characters created by Jamie Hewlett (Gorillaz, Tank Girl) for The Face comic strip and directed by Euros Lyn (whose credits include award-winning Doctor Who episode 'The Girl In The Fireplace'), Phoo Action is an innovative and action-packed drama commissioned for BBC Three as part of its forthcoming revamp and promises to be full of visual treats, car chases, kung-fu and comedy.
The cast also includes Carl Weathers (best known for playing Apollo Creed in the 'Rocky' movies) as Police Chief Benjamin Stone and Danny Webb as the sinister and power-hungry Lord Rothwell.
Lead Flame artist for Rushes, Marcus Wood comments, "Working with Creative Director Jamie Hewlett and Director Euros Lyn was really exciting as they had some very definite ideas, creatively, regarding the look of the visual effects. The fantasy elements of the story left a lot of room to explore different looks until we discovered what worked best from a storytelling point of view."
Rushes' Producer Anthony McCaffery added: "The programme had nearly 200 individual effects shots ranging from the blinking of the character of Marlon's eyes which were hand animated and tracked in our 3D department, through to the car driving sequences through London which were shot on green screen and required rotoscoping, compositing and design work to bring them into the 'Phoo World'."
"Matte paintings, animation and a huge amount of imagination helped transform the story into a visual treat. This was hugely exciting project to be involved with and the overall look is stunningly futuristic, fun and very, very unique!"
www.rushes.co.uk
(DS)
Top Related Stories
Click here for the latest broadcast news stories.