Broadcast News
18/04/2016
Sony And AMP VISUAL TV Join Forces In Audio-Visual Innovation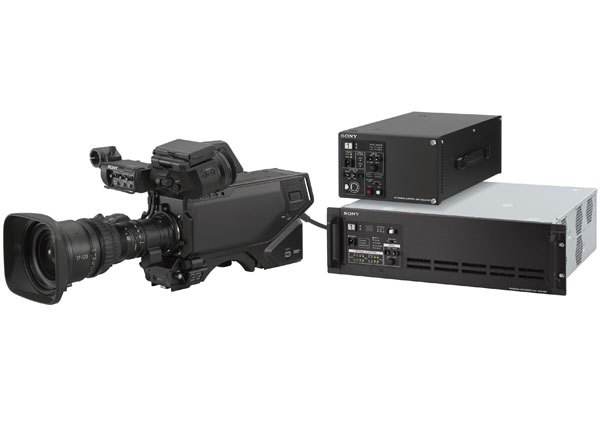 At the 2016 NAB Show Sony Professional will showcase its 4K, High Dynamic Range (HDR) and High Frame Rate (HFR) solutions.
AMP VISUAL TV, a key player in televised coverage with one of the largest fleets of outside broadcast (OB) vehicles in Europe, is equipping its new mobile unit with a range of Sony solutions and is launching the first French OB truck with native 4K support. 
Millennium Signature 12, the new OB truck from AMP VISUAL TV, is equipped with state-of-the-art, innovative solutions. The mobile unit sets the benchmark for UHD (Ultra High Definition) outside broadcast vehicles in Europe, and its cutting-edge technological specifications allow it to tackle the most challenging productions, whether they are in HD, UHD or HDR.
The increased need for flexibility in terms of production formats and the use of resources is driving service providers to push the limits of technology, as well as improving their working comfort. While focusing on new production formats such as Ultra High Definition (UHD) and HDR, AMP Visual TV has needed to respond to all of these demands without compromise and while maintaining the quality standards expected by its customers.
The Millennium Signature 12 is therefore equipped with: 15 basic 4K HDC-4300 camera units (which can be expanded to more than 40 camera units in HD production and more than 20 camera units in UHD configuration), one 4K XVS-8000switcher and five 4K BVM-X300master monitors.
"The reliability and quality of Sony's products are in tune with our requirements. Taking into account our past experience, our proximity to Sony's teams and the convincing results from trials, we have opted for performance and have decided to equip our new truck with these solutions", François Valadoux, Technical Director at AMP VISUAL TV, said.
The HDC-4300 camera unit is the only camera unit on the market today with 2/3-inch native 4K image sensors (4096x2160) and a prism to enable more precise colour reproduction in line with the SMPTE BT2020 standard. Capable of recording in 4K HDR (for superior dynamics), 4K HFR at 100 fps and HD HFR at up to 400 fps, this camera unit is the ideal solution to provide the flexibility required by AMP Visual TV.
Due to its native UHD design, the teams at AMP VISUAL TV believe that the XVS-8000 switcher is the most up-to-date equipment available and the most efficient in terms of power, particularly during transition from HD to UHD. Sony listened to feedback from AMP VISUAL TV's teams, and has also made a number of improvements to ensure greater ease of use with this new generation.
Finally, the Trimaster EL 4KTM BVM X300 master monitor from Sony is the only model currently on the market offering the contrast of OLED technology and the ability to display HDR signals at a resolution of 4096x2160, supporting SMPTE BT2020 colour space.
The final consideration for the AMP VISUAL TV teams when selecting their equipment was that it should be scalable, offering IP connectivity with Network Media Interface input/output cards.
"The collaboration between Sony Professional and AMP VISUAL TV is essential in allowing our businesses to implement the best technology to support the most demanding productions. The release of Millennium Signature 12 will be a major event and we are delighted that Sony is part of this adventure where innovation makes a difference", says Norbert Paquet, Strategic Marketing Manager at Sony Professional Solutions Europe.
sony.co.uk
Top Related Stories
Click here for the latest broadcast news stories.