Broadcast News
31/08/2000
SONIC FOUNDRY AND REALNETWORKS BROADCAST SOLUTION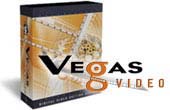 UNITED States digital media developer Sonic Foundry has announced that Vegas Video will be featured as a video content creation component of a special RealNetworks RealServer Pro 100 broadcast solution.
The solution is part of a RealNetworks promotion supporting the rapid growth of RealVideo 8 content development. RealVideo 8, introduced by RealNetworks in May 2000, delivers full-screen VHS-quality video at 500 KBps and high-quality video experiences to consumers at narrowband rates.
"RealNetworks is truly excited about this promotional opportunity," stated Geoff Walker, RealNetworks senior developer relations manager,. "With the inclusion of Sonic Foundry's Vegas Video software, we are able to offer a top-of-the-line, high-quality video editing solution that encodes to the RealVideo 8 format."
The inclusion of Vegas Video, Sonic Foundry's video and audio editor, in this broadcast solution provides content developers, broadcasters and network providers all the necessary tools to create, edit, and deliver streaming media. Customers who purchase RealNetwork's RealServer Pro 100 Broadcast Solution will also receive Sonic Foundry's Vegas Video editing software package.
Vegas Video integrates video editing, video compositing, audio editing, and advanced encoding tools into one application. The software is designed for digital video production, streaming video content, broadcast production, multimedia creation, corporate presentations, training, distance education, and media centres and offers unlimited tracks of video and audio as well as other effects.
Top Related Stories
Click here for the latest broadcast news stories.