Broadcast News
01/09/2000
PRO-MPEG RETURN TO IBC WITH LATEST LAUNCHES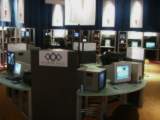 THE Professional MPEG Forum is to return to IBC this year to display a full scale outline of their current work on the degree of interoperability between manufacturers making digital equipment for studio use.
The Pro-MPEG forum has been bringing together manufacturers and end users to discuss and recommend solutions that aim to benefit all those interested in choice and flexibility in digital broadcasting.
Dr Nick Wells Pro-MPEG chairman said: "Our emphasis is on interoperability testing and the practical implementations of new standards. In addition our goals are to promote user requirements within the industry and to promote an understanding of how to get the best out of new digital infrastructure."
Rising from the Pro-MPEG Forum's meetings and tests, the continuing development of MPEG usage has led to suggested codes of practice for manufacturers to follow in the configuration of digital systems.
The Forum has also produced a requirements document, which includes reference architectures for studio production.
Dr Wells said: "These reference architectures for the use of MPEG in the digital studio are really important in helping to build consensus within the industry on what to implement in these environments, they're also important in educating the industry on how it can get the best out of compressed video architectures."
IBC will also see the first developmental showing of the Material exchange format (MXF). This single format is intended for broadcast operations. The Pro-MPEG Forum is currently working with the advanced Authority Format (AAF) to further develop MXF.
MXF will be both compression and platform independent so it can be used by all the digital formats currently in use in the broadcast industry.

Top Related Stories
Click here for the latest broadcast news stories.