Broadcast News
30/10/2000
BSKYB'S £3M SONY BETACAM SX CONTRACT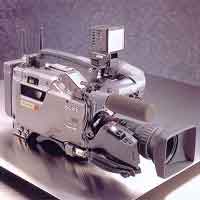 BSKYB have awarded Sony Broadcast & Professional UK contracts worth in excess of £3 million for Betacam SX camcorders, VTRs and portable field editors.
Products specified in the contract include the DNW-9WSP widescreen switchable camcorder, the DNW-A25P laptop field editor range of studio VTR's as well as office viewers.
Head of Engineering at BskyB, Dave Sparks, said: "We gave the news crews a large degree of choice in the selection process since they are a key user group of the new equipment. The crews are very comfortable with the functionality and reliability of the Sony camcorders. At BskyB, we've enjoyed a long relationship with Sony, going back to before we went on air. We're delighted that this relationship is set to continue."
David Radoczy, Head of Editing and New Development at Sky News highlighted the compatibility between Betacam SX and SP in the continuing efficient operation of BskyB's international news operation.
"It's a legacy issue," said Radoczy. "We didn't want multiple formats in the newsroom and, effectively, with SX, we still have a single format. Its ability to replay SP tapes is essential since we have a huge analogue archive here and yet we will maintain free access to it through the Betacam SX kit."
As part of the major digital upgrade at Sky News, Betacam SX equipment is being installed at the station's main news production centres at Osterley and Westminster.
The BskyB UK regional news bureau and suppliers will be equipped with a Betacam SX kit. They will transmit footage back to the production headquarters as an MPEG data stream via an ATM network.
Top Related Stories
Click here for the latest broadcast news stories.