Broadcast News
06/06/2022
Broadcast Pix Announces New Integrated Production Solutions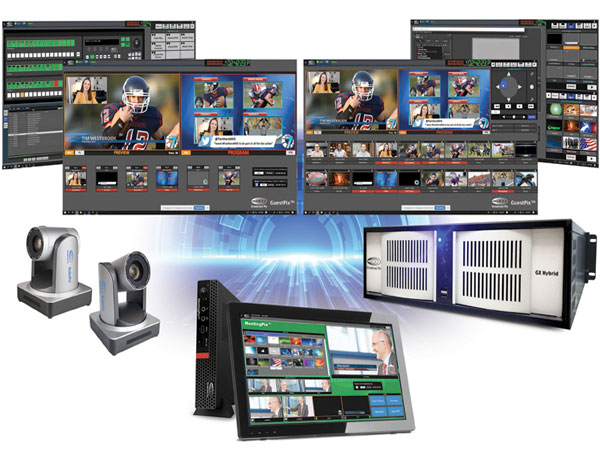 Broadcast Pix™ has announced two new integrated production solutions to meet the demands of today's hybrid, multi-format work environments.
MeetingPix, a dedicated appliance for government and corporate meetings, and the GX Hybrid, an expansive 22 input switcher, completes the company's new product line up with integrated production solutions for every budget, application and performance level. The software-based video production systems are multi-format, resolution independent and hybrid – perfect for today's video and IP world.
For the last 20 years Broadcast Pix has pioneered Integrated Production Solutions with a complete tool set that is fully automatable and easy-to-operate.
MeetingPix, primarily designed for small- to mid-size communities, offers all the tools required for comprehensive meeting coverage with the ease-of-use required by volunteer operators.
Powerful, flexible and easy-to-operate from a touchscreen or web browser, MeetingPix easily connects to PoE robotic cameras, like RoboPix and includes GuestPix, enabling remote participants to be integrated into the production. Sophisticated graphics, full automation and configurable UI's complete the package making MeetingPix the most fully-featured product at its price point.
The new 22 input GX Hybrid is the most comprehensive integrated production software solution on the market. With a further eight channels of clips and graphics, six assignable outputs, 2TB of server storage and built-in streaming, recording and audio mixing makes it perfect for many markets, from local sports coverage to regional news.
Ideal for remote productions the GX Hybrid, like all Broadcast Pix products, includes Remote Commander, which enables multiple remote-control surfaces and UI's to control a single switcher core, so the technical director could be in New York, graphics operator in Florida and camera operator in Boston all connected via the internet.
broadcastpix.com
Top Related Stories
Click here for the latest broadcast news stories.