Broadcast News
11/05/2022
LWKS Software Acquires ioGates ApS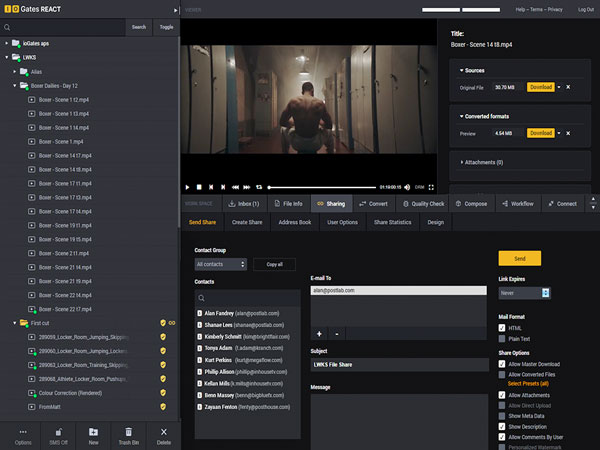 LWKS Software Ltd has acquired ioGates ApS, a developer of cloud-based file sharing software for video and film production.
The move brings together ioGates' React, a leading media cloud platform, with LWKS' Lightworks NLE and QScan AQC products, offering a full suite of tools for content creators, from secure file sharing to Review and Approve and Dailies workflows.
"We are delighted to welcome ioGates into the LWKS family," said Peter Lambert, CEO, LWKS. "ioGates React is the fastest, easiest and most secure way to share media in the cloud, so both teams view this acquisition as an extremely positive move for everyone involved in video and film creation. As content production continues to increase, we are seeing a much larger trend towards creative teams working remotely and in ever more dispersed locations.
"ioGates' React offers a simple and secure way to bring those teams together. With this capability alongside the proven feature-sets of Lightworks and QScan, anyone involved in the creative process will be able to collaborate in a single, easy to use connected environment."
Lightworks is the preferred editing system of thousands of professional and prosumer editors worldwide. LWKS' enterprise customers include HBO, Comcast, NHK, Netflix, Apple and Canal+. ioGates' React cloud software boasts a customer base that includes national broadcasters DR, TV2 and Discovery in Denmark, YLE in Finland, Nordic Entertainment Group in Scandinavia and Balticum and SRG in Switzerland, and large post production companies such as Windmill Lane and Screenscene.
www.iogates.com
Top Related Stories
Click here for the latest broadcast news stories.