Broadcast News
05/11/2021
The Rise Women In Leadership Report 2021 Launches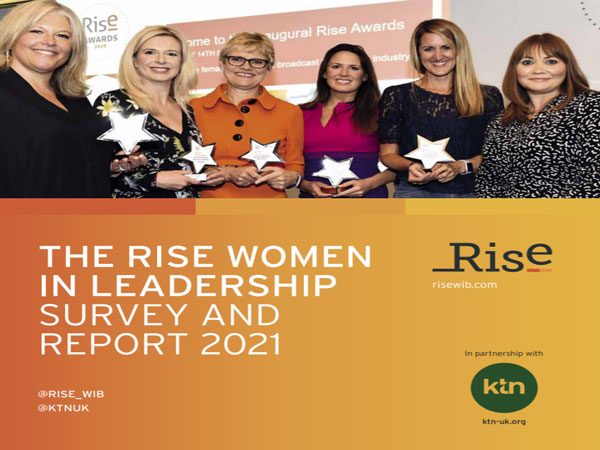 Rise has launched of The Rise Women in Leadership Report 2021 in partnership with KTN, the UK's innovation network agency, connecting ideas, people and communities to respond to the national and global challenges and drive positive change through innovation.
The Rise Women in Leadership Report is the first of its kind for the broadcast media technology sector and provides an in-depth insight with recommendations into how the industry can encourage women to reach their potential and succeed in leadership roles.
Led by Peggy Reickmann (Vubiquity) and Stefi Popescu (Sky), Rise developed an initial survey in early 2021 to discover if there were any specific trends that have led to women being leaders in our sector. The findings of this survey were then analysed, identifying underpinning trends and patterns. This work has resulted in Rise's fully-fledged report, authored by Daisy Chapman-Chamberlain (KTN) which will help companies have a better understanding of behaviours, attitudes and support that can lead to women occupying senior positions at companies across the globe.
Rise's intention is to build on this report and to develop further programmes, training and initiatives that will help the sector encourage more women into leadership positions.
Dr Kirsty Hewitson, Director at KTN said: "KTN understands the value that diverse and inclusive leadership has in driving innovation. We are delighted to be partnering with Rise in support of this Female Leadership Report, which offers real insight into how individuals and organisations might pave the way for positive change in their organisations."
Carrie Wootten, Managing Director of Rise, said: "Our goal is to ensure that there is a diverse and gender balanced workforce across our industry, and Rise is pleased to launch this ground-breaking report which will serve as an invaluable tool for our industry. I would like to thank everyone who contributed to Rise's first Female Leadership Report and to KTN for its partnership and support."
risewib.com
Top Related Stories
Click here for the latest broadcast news stories.